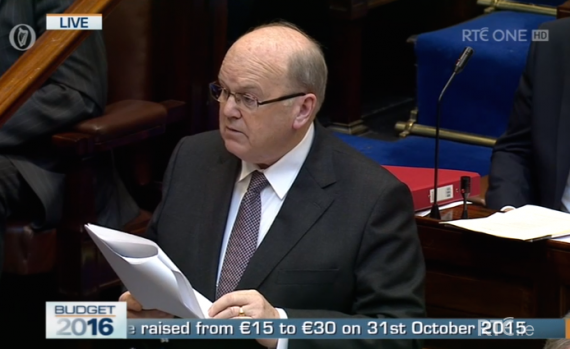 By Cora Power & Tomás Heneghan
Last week the current Fine Gael-Labour Government announced the details of its final Budget before the General Election.
Budget 2016 has been labeled the "giveaway budget" and a clear case for this could be made from the many offerings from the Department of Finance to the Irish electorate on this occasion.
Key changes for students include changes to the Universal Social Charge (USC), the minimum wage, cigarettes, student assistance and bank charges.
The Universal social charge was a very controversial tax when it was first introduced in 2011. Budget 2016 will see the following changes:
The 1.5% rate of USC will be reduced to 1%, with a €12,012 threshold.
The 3.5% rate of USC will be reduced to 3%, with an increased threshold of €18,668.
The 7% rate of USC will be reduced to 5.5%, with an increased threshold of €70,044.
From the 1st January, the minimum wage rate will increase by 50 cent per hour. This will raise the rate from €8.65 to €9.15. if you are working 25 hours a week, that's €2.50 extra in your pocket.
As is usual for annual government budgets, no change has been made to the price of alcohol. However there is now an additional 50 cent charge on cigarettes, bringing the price in the majority of circumstances from €10 for a 20 pack of cigarettes to €10.50.
Unlike many of the other changes, this increase in cost was introduced at 12am on Wednesday, 14th October.
Funding for disadvantaged students in third level education has also been allocated €3m. However we will have to until spring too find out the details of the funding.
Particularly significant for students with children, free childcare will be available from when the child is three years of age to when they reach the age of five and a half, or until they begin primary school education.
Free GP is also to be provided for children under the age of 12 years.
Bank charges will also change under Budget 2016. A 12 cent charge will now be applied to ATM transactions and there are plans for debit and credit card payments to move towards a contactless payment system.
This would mean you could make a transaction of up to €30 by just swiping your debit or credit card at any participating businesses. This will be introduced by the end of the month. This method should also bring an end to minimum payment for card use.
However the government have faced criticism over Budget 2016 from some, including the Labour Party's youth wing, Labour Youth.
The group is unhappy with the decision by government not to increase the Jobseekers Allowance entitlement of people under the age of 26.
Labour Youth National Chairperson, Jack Eustace said: "[The] decision not to restore or even raise the level of Jobseeker's Allowance available to younger people is simply inexcusable. Again and again, Labour Youth has raised this injustice and the intolerable way it perpetuates inequality in modern Ireland. To see no restorative action in a budget which nonetheless found money to cut taxes is simply an insult."
Mr Eustace added: "Of course it remains Labour Youth's committed policy to push for total restoration of the cuts made to under 26's Jobseeker's Allowance. We will continue to pursue this aim as we believe there is absolutely no role for age-based discrimination in our welfare system.
"However, the decision not to take action in Budget 2016 is one we can't stand over. The government has one further chance to rectify this oversight by including a raise in young Jobseeker's Allowance in the imminent Social Welfare Bill, and we strongly urge them to take it."
In the latest in a series of public opinion polls, the Labour Party stands on only 8% support. At this number, and considering the continuous trend of low polling percentages and the history of the party, Budget 2016 could be the final budget from a Labour Party government for another decade.