Name: Matthew Murphy
Age: 22
Course of study and year: Aeronautical Engineering, 4th year
Where are you from: Graignamangh, Co. Kilkenny. Good spot.
Why did you decide to run?
I'm running because I can make it through a three-hour movie no bother, but after 20 minutes of a lecture I'm falling asleep. I want to make it easier for students to be engaged by their course.
Have you always been involved in SU?
I haven't but there's a first time for everything.
Any experience with being politically active?
I was head of the student's union in secondary school, sorted the place with some microwaves. Wouldn't be into national politics though.
Are you involved with any clubs or societies?
I was treasurer of the UL men's rugby club in second year, dipped in and out of the boxing and surfing clubs in 3rd and 4th year.
Do you prefer working alone/in a team?
Working as a team. Working by yourself is grand but you kind of get caught up in your own ideas. It's good to take a bit of criticism.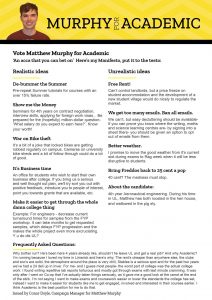 What are some things you think the SU have done successfully?
Tommy Bolger was a great president, the work he done to get funding for the library was what you want in a Sabbat officer.
What are some things you think the SU have ignored or not done to the best of their abilities over the years?
I don't think the students should have had to pay for the new diving pool in the arena. The arena is a private company and students never get to use it. Cost a few million too.
Why is this job right for you at this point in time?
I'm in final year so it's my last opportunity before I head out the white gates in May. I think it takes the four years to get a full grip of the student experience. If I ran in third year, I don't think I'd know what a pain the FYP is.
Tell us some stuff about your manifesto and what you plan to do if elected?
I want pre-repeat Summer tutorials for courses with an over 15% failure rate.
An office for students and recent graduates who want help starting their own business
Cut down the number of bikes robbed on campus
Why do you think you're the best candidate for the job?
For me, the best candidate is the one who loves UL but is able to see its flaws. If I thought UL was perfect, I wouldn't run.
Why did you choose this position?
I think Academic is a position that can get a lot of work done. It's not as out there as the other two. At the end of the day, you're here to get a piece of paper that says "I'm not bad at this particular subject." I want to make it easier for students to get that piece of paper.
What skills/qualities can you bring to the role?
I think I have a good sense of empathy because I think that everyone wants one thing- respect. Arguments arise when students think lecturers don't respect them and vice versa. Respect is a landlord not conducting house inspections every two weeks, or the barman in Hurlers not looking at you like he wants to kill you because you're wearing a parka. I think knowing how to respect people is key if you want to actually help them. Which is what the Academic Officer is there to do in the first place.
What makes you different to past sabbat officers?
I've definitely fallen asleep in more lectures than any previous sabbat.