It took more time than usual but newly-crowned Heavyweight Champion Francis Ngannou emphatically put any demons from his first-ever career loss to Stipe Miocic at UFC 220 to bed.
Ngannou finally realised his dream of capturing UFC gold with a calm, composed and patient performance which saw the Cameroonian knock out Miocic in devastating fashion.
Ngannou, before this fight, was on a 4-fight win streak which saw him tear through the division with knockout wins over Curtis Blaydes, Cain Velasquez, Junior Dos Santos and Jairzinho Rozenstruik, lasting all but one round and less than two minutes in total. 
The pair did square off in 2018 with Ngannou looking like a fish out of water, being outclassed and picked apart by Miocic. Swinging wildly and constantly searching for the one punch that sent many past fighters into orbit. 
This rematch was the complete opposite of what transpired three years ago as Ngannou started patiently, with thunderous calf kicks, catching Stipe off guard and making him retreat throughout the first round. 
Eventually, Ngannou threw a massive overhand right that somehow, Stipe took with great resistance similar to their first fight. Knowing that he cannot match Ngannou's power, Miocic turned to his wrestling that worked previously, but Ngannou was quick to defend the takedown and ended up on top of Stipe's back delivering vicious punches just before Stipe could make it to his feet. 
A head kick followed from Ngannou and the round ended. 
Stipe, to his credit, survived the opening round but produced very little in terms of offence, looking as if he was trying to wear Ngannou down like in their first fight but Ngannou learned from his past mistakes and stuck to a pace that benefited him.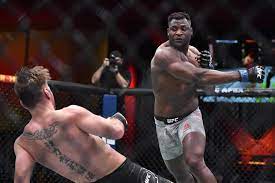 As the second-round began, Stipe pressed forward with more emphasis and tried to put pressure on the Cameroonian. 
This, however, was his undoing as Ngannou sent a stiff jab that knocked Stipe to the mat. 
Ngannou smelled blood and as soon as Stipe got back up to his feet both men traded, landing flush but it was Ngannou who saw the opening and when Ngannou hits you there is only one outcome. 
"He touched me with that punch, but I was stepping back to reset," Ngannou explained to Joe Rogan on the broadcast. 
"He did a mistake following me. That is when I caught him. We've been putting on a lot of work, me and my team."
Ngannou can take great confidence in his performance, showing improvements while sticking to his main plan of action, a knockout artist with superhuman like power. 
This now sets up the biggest heavyweight fight in UFC history with Jon Jones next in line to face the newly crowned champion, who is looking forward to the prospect of fighting the former light heavyweight Champion.
"For my opinion, Jon Jones is the greatest of all time from mixed martial arts. Him moving up is going to be a good thing. He is going to be a challenge that I will take, and I will put it on record. It will be a very good thing on my resume.
"But this time he is gonna be the challenger, I am the champ. I am ready. Any time soon. Whenever they are ready, I am ready."
The card also saw the return of Bantamweight contender Sean O'Malley and former Welterweight Champion Tyron Woodley. 
O'Malley, who was coming off his first career loss took care of business in an impressive performance against Thomas Almeida. 
Besides his resounding win, some have questioned if O'Malley has the right attitude to his fights.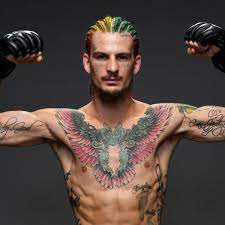 Still ignoring the fact, he lost to Marlon Vera and instead of finishing Almeida when the opportunity arose, he walked off twice expecting the referee to put a stop to the contest. 
O'Malley is at the top of his game and has the talent to go further but if his attitude problem still consists, one would think he will be brought down to earth sooner rather than later.
Tyron Woodley returned to action after his TKO loss to Colby Covington, suffering his fourth loss in a row to the vibrant Vicente Luque in the co-main event. 
Woodley, who promised a return to his old self, quickly got a hold of Luque trying to suffocate him.
Once the pair broke away from that, Woodley, to his credit landed a glancing right at the side of Luque's head, wobbling the Brazilian. 
Throwing caution to the wind Woodley got caught perfectly on the chin that sent him flying to the mat, looking dazed and confused Luque quickly capitalised and knocked Woodley down again before submitting the fallen great with a rare Brabo choke in the very first round.
The prelims did not offer much excitement but saw three decision victories. 
Alonzo Menifield was the stand-out with a first-round submission over Fabio Cherant.
All in all, while Sean O'Malley performed flawlessly on his return with a self-assured performance that will boost his rank in the bantamweight division it was the newly crowned heavyweight champion Francis Ngannou who yet again showed why he is the most feared man in the sport.
Ngannou showed the adjustments he made from his first fight with Stipe and cemented himself and as the baddest man on the planet and, with Jon Jones waiting in the wings, if Ngannou can replicate that level of performance against another all-time great, his stardom and title of the scariest UFC fighter to ever enter the company will be set in stone for years to come.