By Fiachra O' Luain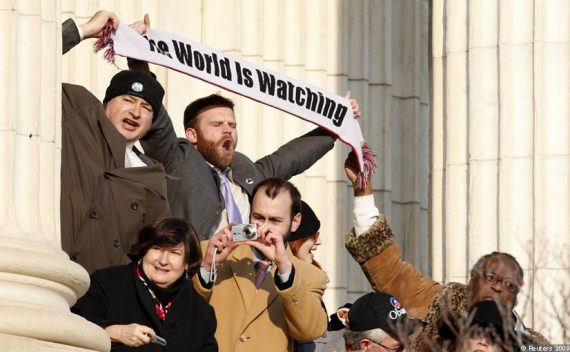 UL graduate Fiachra Ó Luain compares Trump era to immediate post 9-11 era on campus and tells how your support for Dínit, an Irish volunteering NGO supporting with refugees in Greece could win you a trip in a Hot Air Balloon.
Week Zero, September 2001, myself and the other first years took up our rooms around Castletroy before taking our first tentative steps around the campus and through the corridors of UL. I'd just come back from Washington DC, New Jersey, New York and Boston having flown from Logan Airport just ten days before the hijackers boarded and took off from the same place to crash into the Twin Towers. Two weeks earlier I had seen them as we passed over the George Washington bridge. That moment felt so intense, everything felt so immediate. I was reading Noam Chomsky's writings on the Role of the University as I arrived in UL. I wanted to make the most of my time here and make some sort of a difference.
It was through writing an article for An Focal and joining all the Clubs and Societies that interested me that I soon found an extended community of friends from all walks of life who would soon become like family. We were first years, returned Erasmus students, international exchange students, postgraduate students, Ph.D students, lecturers and people from the wider Limerick and Clare community who came together to respond as best we could to the challenges and threats of that moment. We became a motor for change and over the next few years ignited real debate and fruitful activism that many still remember as a Golden Age in UL.
We soon realised that the tragedies of 9-11 would be used as a pretext for expanded warfare and the rolling-back of Human Rights around the world. We worked hard to do whatever we could in our spheres of influence to resist this. We launched campaigns on campus to oppose nearby threats to Human Rights and World Peace such as the Trident Nuclear Submarine base in Faslane, Scotland, the Nuclear Reprocessing plant at Sellafield in Cumbria, England and Shannon Airport next door in County Clare. We had started noticing dodgy middle-of-the-night activities at SNN that turned our local municipal airport into a de facto US Airbase for the attack on Iraq and a hub for Guantanamo and other extra-judicial CIA flights to so-called Black Sites where those kidnapped from one country could be tortured in another or made to vanish without a trace.
Instead of feeling powerless and voiceless we banded together and took it upon ourselves to organize events, creating enough noise on and off-campus for UL to become one of the most successful centres of student activism in all of Ireland. It didn't matter who you were or where you came from, if you were in UL and you felt passionately enough to want to organize for or against anything you always found the tools and support to do so. I've since studied in universities in Spain, Mexico, Rwanda, Brazil and others in Ireland including TCD and UCD. There is nowhere that compares to UL in terms of support for students finding their voices and purposes in life. You worked hard to get here, you deserve to be here but you are also privileged to be here, just as UL is privileged to have you here but with that privilege comes responsibility. Just as UL has a responsibility to help you find your full potential, you also have a responsibility to help make the University of Limerick fulfil its ever-evolving potential.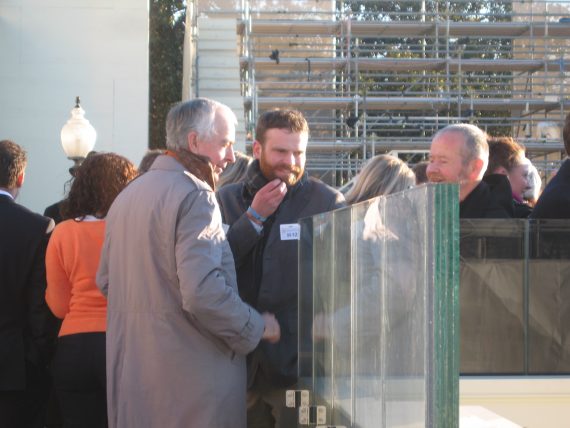 There are striking similarities between this time and that, nobody knows quite what to expect. Trump is in his first year in the White House, there seems like there is so much to be fearful of as he plays twitter table-tennis with Kim Jong Il and others igniting an array of tensions in the US and beyond. Again there is an impending sense of doom. I'd just like to say that we have been here before and this will pass. The pendulum will swing back again, have faith in the goodness of the human heart despite all the examples to the contrary. Through our increased involvement in important issues and ever-more effective communication between different groups on matters of freedom, justice and ethics we will get back to more humane and optimistic times again. By following your heart and engaging with others you will have a life worth living after graduation.
When we were active on campus, particularly between 9-11 and the Iraq Invasion some used to joke that we'd be put on the no-fly list after Bush made his "With Us Or Against Us" speech. Over the years our work and research helped expose what was happening in Shannon and to some extent, by helping connect the dots with others in Europe and beyond we played a role in turning public opinion heavily against the CIA's Rendition Programme and the Iraq War. So much so that Barack Obama was elected on a platform to end both in 2008. Those of us who were at the forefront of campaigns in the University of Limerick were among those invited to attend the 2009 inauguration in Washington DC. Those of us who stood up against American abuses of Human Rights and International Law during the Bush years were welcomed as friends and heroes by our American friends when that nightmare ended. Dr. Edward Horgan, a lecturer here, myself and three other members of the UL family were invited to Capitol Hill by the late Senator Edward Kennedy and the future Secretary of Foreign Affairs, Senator John Kerry. We gave our appraisals of the previous eight years and suggestions for the future to as many elected officials as we could on the famous "Day One" of Obama's first term. Dr. Horgan and I were waiting for a meeting with Ted Kennedy on his Russell building balcony overlooking the Capitol Building when one of his aides came to tell of us of his collapse at the luncheon. We were right there. You will be right there too. The nightmare of Trump will be over before too long and people will be united more than ever. You will inherit that dawn and help author the coming day. Be sincere, be courteous, even friendly with whom you disagree with and you will achieve more than you imagine.
In the months following the Obama inauguration I was invited to crew on an Aid flotilla to Gaza in Palestine to bring medical, educational and construction supplies to help in the recovery from the infamous Operation Cast Lead that occurred in the Lame Duck period before Obama took office. We were seven ships and several hundred activists of all faiths and all corners of the Earth. We were attacked at dawn and ten people were killed by Israeli Navy Seals. We were held incommunicado in a facility in the Negev desert for a few days before we could contact family, embassies and return home. While I was there a friend of mine from UL was terminally ill in a hospital in Dublin. Patrick McHugh was UL's first openly gay 'Equality Officer' and our mutual commitment to Human Rights (and good humour) had made us fast friends ever since the Nice II Treaty debate in the Jean Monnet theatre. I nominated him for Equality in 2002 and he won. He never looked back and I hear from members of the current Clubs and Societies Best Society 'Out In UL' that he is proudly remembered as one of their most important founding members to this day. Paddy was a force of life and anybody who was on campus during his time here will attest to his spirit. Paddy died of stomach cancer a day or so after I returned home from the trip to Gaza. I never got the chance to say goodbye but a mutual friend said he murmured "Fair F*cks Fiachra" when he heard about me creating as many problems for the Israeli authorities as possible, so that made me feel close to him before he died. I visit his mother Dolores, siblings and nieces when I can but life was never quite the same for his friends after he passed even though his legacy is massive. I've spoken about the flotilla experience at places like Ivy-League Brown University, Vermont Law School and Boston University subsequently of which there are videos on YouTube if you are interested but I always regret that I never got to give Paddy the low-down myself when I got back.
Anyway, sixteen years after 9-11 I am back in UL before I go again to try and do what I can to address the refugee crisis that is a direct consequence of the wars made possible through the ongoing activities at Shannon Airport. It is my privilege and my responsibility to use my education to right some of these wrongs. I have been invited to take up a role with the Irish NGO Dinít (Delivering Dignity Worldwide) as their Communications and Outreach Officer and plan to go to Lesvos Island, Greece as soon as I can and for as long as I can. I must first fundraise enough to get me there and keep me there until funding is secured to cover a salaried position with them. In order to do this I am raffling off a trip in a hot air balloon. Paddy's mother has given me permission to fundraise in his memory because he would have supported any efforts connected to upholding Human Rights. There is also another connection between Paddy, the prize and I. Paddy came from nearby Stradbally, Co. Laois where my ancestor Richard Crosbie also came from. Richard Crosbie, whose brother Sir Edward was later decapitated for treason during the United Irishman rebellion, was the first Irishman to fly and he did so in a Hot Air Balloon in 1785. There is a statue to him in Ranelagh Gardens in Dublin as well as a book by Bryan MacMahon called 'Ascend Or Die' and he was as flamboyant as his fellow Laois man Paddy McHugh. You should read some of the descriptions of those first Irish flights for a glimpse of late 18th century aeronautical flair, showmanship and pizazz.
So to fundraise I am selling raffle tickets online and through the An Focal office in the ULSU. For every ten euros donated to www.ifundraise.ie/LesvosVolunteeringWithDINIT (Google iFundraise + Lesvos + Fiachra) people can have their name put on a raffle ticket that will be drawn from a hat by Patrick's mother Dolores McHugh in January or February in UL. Fifty euros equals five raffle tickets for example and at present I have set the fundraising target at 4,000 euros. The odds will be good and you would be supporting my efforts to help Dinít get the word out about how individuals can best use their skills to support vulnerable refugees living realities that you or I would find hard to imagine.
If you think you may like to volunteer over a term break or upon graduation, Dinít specialises in helping find the best NGO for an individual's skill set. Right now the focus is on Lesvos but there may be other places we focus on trying to get skilled people to. Whether you are an Engineer or an English major we will find the best way for you to apply your skills to the situation on the ground. Contact lee@dinit.ie or myself on oluainf@gmail.com for details. I'll be joining whoever wins on the Hot Air Balloon flight on a date we can agree between the draw and June 2019 so that will be something to look forward to. Please spread the word as you see fit, get your friends and family to buy tickets and perhaps I'll see you in the skies. In the meantime enjoy UL, keep your spirits buoyant and focus on all that which is to be gained from meaningful engagement with everyone you share this spectacular campus and learning environment with.
Fiachra Ó Luain