Limerick has a long roll-call of distinguished musical artists – and Megatrad are next.
Formed by brothers Cillian and Sean O'Dálaigh from Ardnacrusha, Co. Clare and Denis McAuliffe from Cratloe, the University of Limerick graduates are here to bring trad to the masses; stompbox and all.
But how would Megatrad describe their music to the uninitiated?
"That's a good question, one we have had trouble with so far as it is indeed a little tricky to put into words," said band member Cillian.
"In short, we're an improv-based band of Irish traditional music origins that use an array of beats and FX along with our traditional instruments to create a big heavy, sound. So what that means is that when we perform, we play pieces that we have never played in that way before; we do at this point have certain concepts that we cycle into sometimes, but even then we have no set arrangements so we never know where the piece might end up! We build the mood depending on the room and response round us, so when the venue is a bit mellow we will perhaps be a bit more ethereal in our approach, as opposed to when a venue is lively and ready to party, then we really turn in up and drop the beats in heavy to keep the people dancing. All in all, we do still stem around the Trad though, even if in some pieces it might take us up to 5 minutes before any mention of a Trad Jig or Reel is played!"
Megatrad came into existence towards the end of 2018, after the intrepid trio trawled the streets of Limerick, looking for a bar that would facilitate a trad session.
"It was very hard to convince bars to consider trad as they always felt it sits in the background too much and doesn't get the people riled up like an amplified pub band would. So we reevaluated our approach and decided to add PA, a stompbox and a bass pedal for the guitar."
After that, they were onto a winner.
"From there it was almost like everything just lined up for us; we knew where we could hear this sound going, and so we experimented with different FX units for our individual instruments (guitar, fiddle, mandolin) and before we knew it we were making music that reached the sky and flew above the clouds!"
The Brothers O'Dalaigh and McAuliffe first met while pursuing a BA in Irish Music and Dance at the University of Limerick.
The academic approach to their passion turned the trio from mere music enthusiasts into scholars of the artform.
"It was a great atmosphere and great friendships and bonds were formed that lead on to create many other successful bands like Beoga, Goitse, etc."
"It was a great place to make music, and they encouraged us a lot to rethink how we thought about music, that it can be anything at all you hear inside your head, not just notes on paper, and I guess that's something that really left a mark on us three in how we approach our creativity now," stated Cillian.
"There was of course lots of focus put on the origins of our music and world musics, and then we learned a great deal about music technology too, so we definitely came out of there as well rounded musicians, and we're very grateful indeed," he added.
Megatrad were speaking to An Focal ahead of a gig at the Glen Tavern on Glentworth Street in Limerick City, and said they were "Very, very grateful to the Glen Tavern, and any other bar around that gives budding bands a fair shot at it, because that's hard to find sometimes."
Indeed, the fair shot may be the most difficult thing facing a band heading into the next decade.
When asked what the hardest thing was for a musical group, Cillian said "Getting out there and getting heard," was the most difficult thing for a budding music group.
"There's so many people who are believing in themselves and their art these days, and as a result of that, there is a deep pool of artists as eager as ourselves to share their interpretation of the world with the world, and so trying to be heard without drowning someone else out is challenging alright. That being said, there are loads and loads of people who are strong supporters of live music and that come out to gigs all the time, and so a big credit to all of you who come out and support bands!"
"The Glen Tavern They gave us a shot to try our thing right at the beginning, with nothing but our excited word to show them how much we wanted to try this."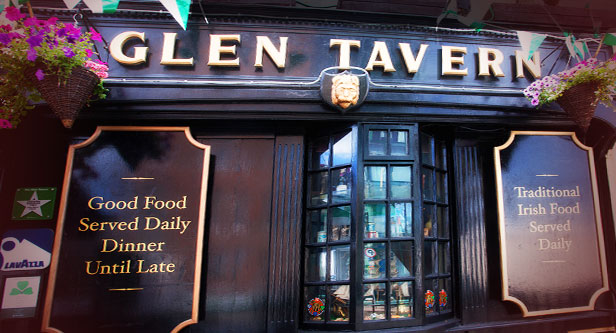 The trio are in it for the long-haul; music truly is their life.
"Music is indeed our main focus" confirmed Cillian.
"We have other projects and we also teach the odd bit here and there, but I think it's safe to say we don't want to do anything else."
"We have even noticed when we finish gigs these days, gigs that might last 2 to 2.5 hours, we feel we could truly rock on for another couple of hours at least, like we're just in the middle of it then! We really can't get enough of it."
What does 2020 hold for Megatrad, in that instance?
"We're already planning the first album, and we'd ideally be done and ready with it by the middle of February 2020 all going well."
"In our sense, we've discovered it might pose challenges of a unique kind for us to record an album, because if you're going to record an album, you generally want to have music arranged and thought through so that you know what you're putting on your record, but for us, a band that revolves around improvising and feeling it out, we'll have to figure out a slightly more personalised approach as to what we'll put on the record."
Limerick has amassed quite an impressive array of talent over the last year, and Cillian shares that sentiment.
"The traditional music scene of Limerick has skyrocketed as a result of The University of Limerick's Music Academy, and that's amazing in itself."
"But the alternative and Indie music scene of Limerick is just so vibrant these days, it really brings the party to town! And thankfully, we feel our music actually fits into both of those boxes; we definitely relish our place in the Trad world, but to see young folk jump to their feet when we drop our big sound in on top of a jig or a reel is something extremely special and we couldn't be happier to be doing what we're doing!"