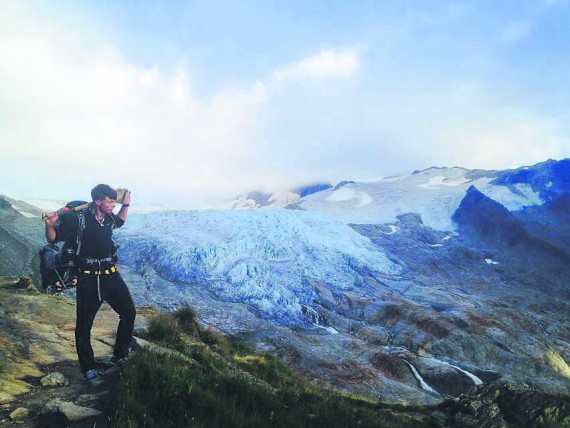 By Seamus Toomey
The Outdoor Pursuits Club made a video of their trip to the Alps this year and with a couple of hurls, an editor's eye and the help of a glacier they've gone somewhat viral, being featured on many Irish news websites including joe.ie.
What they did was bring a couple of hurls over to the Alps – a great idea given to Ryan Hanlon (the man behind the video) by Cormac Kelly.
Ryan O' Hanlon who donated his time to the making of the video said: "Yeah, the idea was that Kilkenny were playing the All-Ireland – the initial idea was maybe to get it up for the match or something crazy like that. It got like 800 shares and joe.ie got another 200.
"It wasn't really planned, we just said we'd send it in, I gave it to a fella on joe and he said it was an amazing video and we did an interview and they posted it up and that was cool. We hit it off."
With this simple idea and about 5 days worth of editing (as well as a month long trip) Ryan managed to get the club plenty of advertising and this was seen at the recruitment drive.
Ryan mentioned the amount of people that brought it up when joining saying: "Multiple people came up not just to me, to the other guys saying 'Ohh I've seen your video can I join?'"
If you haven't seen the video I implore you to watch it now, a quick google of "hurleys glacier" will find it. It's about four minutes of joy and my personal favourite part comes right at the end.
As revenge for a slap into the face that split Ryan's lip open he added in a short clip of Clare man Tim Quinlan struggling to climb to the "summit of [Tim's] dreams".
Tim who has now been seen by a large portion of UL has been humiliated but in Ryan's own admission Tim had the wrong crampons on and the video is "deceitful in that there is actually a large overhang there, so we just lowered him down and walk of shame out of there".
Poor Tim.
It was Ryan's first video and bar the "lack of jerseys" he was very pleased with it but the editing was a difficult process. Ryan explained: "First I made an attempt at the GoPro software – it crashed on me. I had the whole video already made and it crashed and lost everything.
"Then I downloaded Sony Vegas pro, very detailed , it's a fairly tough ol' thing but ploughed on with it and got it done. I easily sat down for five days and did it because three days were wasted on the last one. It was totally worth it."
So when did they film? Ryan explained: "If we knew we had a little window of two hours or an hour we'd bring up the hurls with us and puck around for a bit just for the craic really – that was the main idea. It was just pucking about but it got serious. I got a dirty slap to the face and I was bleeding. My lip got split open by Tim Quinlan, the Clare lad."
Somehow I still think Tim got the worse deal.
#PrayForTim.