By Siobhan Comyns
As part of a new series, An Focal seeks out successful UL graduates who have forged their way in diverse fields after their days spent tracing the Living Bridge. The first graduate in focus is Clare woman and Meteorologist Michelle Dillon who is one of the team members we regularly see presenting the weather on RTE.
Where did you grow up?
I grew up on a farm in Tullycrine, a townland in the parish of Kilmurry McMahon near Kilrush, Co. Clare. My Dad was a farmer and my mother did the accounts for the local Supervalu. I have three brothers. I went to Tullycrine National School and Kilrush Community School.
You are a graduate of UL and DCU – what subjects did you study?
I studied Applied Mathematics and Computing at UL. I then went to DCU and did an MSc in Financial and Industrial Mathematics.
At that time, there wasn't a taught masters at UL in that field so Professor Stephen O'Brien recommended the DCU course to me.
Can you give a brief rundown of your career to date?
After graduating from DCU in 1998, I spent seven years working in the IT industry.
I was a Business and Data Analyst in a company called Electronic Data Systems (EDS).
I was based in Dublin for five years and in Antwerp, Belgium for the first two years.
In 2005, I decided to apply for the position of Meteorologist with Met Éireann- I had always been interested in Meteorology as the mathematical modelling used in weather forecasting is one of the applications of Mathematics.
Being from a farming background, I have always understood how important the weather is to those whose livelihoods depend on it.
When I was offered the job, I had to think hard about the decision to change career direction.  I had been settled into a 9-5 routine in the IT industry and joining Met Éireann would involve shift work.  I decided to accept.
My first year with Met Éireann was spent doing a Masters in Meteorology at UCD which I really enjoyed.  I was a little nervous initially as it had been seven years since I had studied Mathematics.  However, my Professor (Peter Lynch) reassured me that it I would quickly get back into it and he was right.  I loved being back in the world of mathematics again and especially seeing its application in meteorology.  The class was quite small and the enjoyable year went by quickly.
I was then assigned to the Aviation Division at Shannon Airport where I did 3 months of on-the-job training.  After that time period, I was able to work on my own as an aviation forecaster.  As an aviation forecaster, I have responsibility for all aviation forecasts and warnings for Irish airspace – there's generally only one aviation forecaster on duty for each 12-hour shift.   Since my initial training, I have done several specialist training courses at both the UK Met Office and the European Centre for Medium Range Weather Forecasts (ECMWF) in Reading.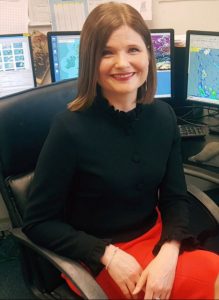 When it was initially suggested that you present the weather on RTE, did you jump at the chance or were you hesitant about doing it?
It didn't really happen like that.  It was a very gradual process.  Evelyn (Cusack) encouraged me to do some training in weather forecast presentation skills which I enjoyed.  Preparing and presenting the weather on TV is just another dimension to weather forecasting.  It has been and is a great opportunity for me to develop both my presentation and communication skills.
Do people ever recognise you in the street?
Sometimes!  I recently ran in the Dublin City Marathon (myself and my brother Kieran ran to raise funds for the Alzheimer Society of Ireland).  I was asked by a fellow runner and her friends to pose for a photograph at the end of the race.  I keep forgetting that I might be recognised!  People who approach me are always very supportive and nice.
 Where are you now based?
In our forecasting division, there are two strands: aviation weather forecasting and general weather forecasting.  I'm an aviation weather forecaster based at Shannon Airport.  I'm in an unusual position in that I also cross into general weather forecasting when I'm based at RTE Donnybrook.
You obviously really enjoy what you do.  Do you think that you have found your "Dream Job"?
Yes – I love my job!  I really enjoy analysing all the data and also communicating that information to both the aviation community and to the public.  It can be very pressured at times, especially in a high impact weather scenario but I always relish the challenge of providing the best possible forecasts and communicating warnings so that our customers can use that information to make the most informed decisions.
Besides watching and listening to the weather forecast on both TV and radio, what is the best way of getting weather updates?
All our latest forecast and warnings can be found at www.met.ie and on our wonderful new app, through which you can find 7-day detailed forecast information for over 3000 locations across Ireland.
Information on Met Éireann's weather warnings can be found at  https://www.met.ie/weather-warnings".
For more useful information on winter weather, check the BE WINTER-READY leaflet
https://www.winterready.ie/system/files/media/file-uploads/2019-11/Winter%20Ready%20Weather%20Warnings_0.pdf