By Tara Byrne
From March 1st to March 5th comes a week like no other. The Gardaí Síochána and the Student Housing Landlords are gathering the forces for a wild week because this year, students are in for a treat.
With various artists like Boots & Kats, Bingo Loco and CABAL pumping it up, Limerick is going to become one big student party. Charity week (also known as RAG week) is amazing because not only can you and your mates go wild, but you can do it while raising money for this year's charities: Pieta House, preventing suicide and self-harm and Limerick Marine Search and Rescue. 
But with a great RAG week, comes great responsibility. Our Student Life President Jack Scanlan and Welfare Officer Serena Hare described RAG week as a "great week" and to "have the craic but be responsible." 
Particularly, a big issue to be aware of during RAG week is your neighbours! Be mindful that there are other residents in student villages who aren't students. While you might think belting out the song "Mr. Brightside" at three in the morning is great, there are other people with busy lives trying to sleep.
Jack would also like to emphasise that the university will be clamping down hard on students who go too far by doing things like climbing up on roofs and jumping in fountains. Fliers will be going around this Sunday, emphasising the importance of not going too far or you could have a hefty fine in your pocket!
Serena recommends carrying a condom and that student life and the university do not condone drugs. They are illegal; however, if you decide to take them, do some research first on Drugs.ie. Be safe and make sure your phone is charged! The most important thing is to enjoy the week and if you see the charity bucket going around, pop in some change.
Last year, charity week raised €16,000, and this year UL is hoping to do better and be able to give each charity at least €10,000 each.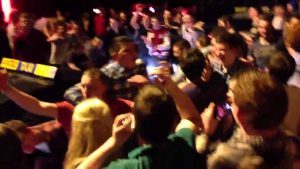 I decided to personally ask experienced students their opinions of RAG week. 
"My experiences are blurry, lots of drink, can't really remember RAG but lots of craic."
"RAG is a great week! College is 100% optional this week and comes second to cans. Can't wait for RAG this semester!"
(I'm sorry UL lecturers, but it seems that you will be teaching empty rooms this week).
"It made me stone broke! RAG is good to meet people you don't know and make friends but you'll probably wake up the next day and forget who they are."
When asked about advice they would give to the hooligans going out on RAG this year, the tone changed from absolutely buzzing to very, very serious.
"Do NOT bring out your bank card, trust me!"
"Don't take drugs, especially if you don't know where they've come from." 
"Set an alarm for 1 AM and if you're still out, drink a pint of water." 
"My girlfriend got spiked last year, keep an eye on each other and your drinks because you can't rely on peoples' decency."
Overall, go out and enjoy yourself for RAG this year. However, remember to stay mindful and responsible to keep RAG as fun as possible.