Ava is a Dubliner living in Hong Kong, supporting herself by teaching English to primary school children. She struggles to open up to her fellow teachers and fails to make friends outside of her dysfunctional relationship with Julian and her potentially functional relationship with the busy Edith.
Julian lets her live in his apartment rent free in an unacknowledged Friends with Benefits situation, while Edith doesn't know about the full extent of Ava's relationship with the English man. Ava, for the most part, is happy to leave everything career into one another, as long as Mammy doesn't find out back home!
Naoise Dolan's debut novel is a brilliant take on modern love, life in general and living with one's own demons. In Ava's case, she must live with the hidden shame that she likes women more than she likes men.
She talks about suffering rumours and bullying back home from girls who now advocate for same sex marriage in Ireland and call themselves 'Allies'. She captures the sickening feeling you get in your stomach when you see someone online post about being kind to one another only to remember them pushing you into the lockers in school and calling you names.
Dolan perfectly depicts a certain type of modern relationship. Ava and Julian are totally different people on totally different paths in life. Ava, who narrates the novel, admits multiple times that she doesn't like Julian and is just maintaining the relationship to save money to move out and to prove that she is 'good at men'. Julian, who softens towards the end, always finds fault with Ava and even lets his misogynistic friends say crass things about her while she is in earshot.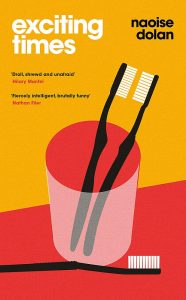 A potentially beautiful relationship with Edith is overshadowed by the spectre of Julian returning to Hong Kong and Edith's own misgivings about coming out in the second half of the book. Ava and Edith are a much better match than the money obsessed banker and the lost teacher, but Ava's refusal to let go of what she knows and take a chance on something better may prove to be her downfall.
Dolan mentions the acclaimed Irish novelist Sally Rooney in her acknowledgements. The two attended Trinity and Rooney edited an excerpt of this book that appeared as a short story. Exciting Times may be the tonic that Rooney fans needed during this pandemic. There may not be as much sex or overtly fraught familial relationships packed within the pages, but both authors manage to manifest main characters that make the reader look inward and examine themselves.
Every decision that Ava makes, whether it be extending her stay with Julian or withholding details of her life from her mother at home, will make each reader look inside and wonder whether they would do the same thing. While we may not all be as self-destructive as Ava, and some of us even more so, her decision to keep herself to herself and her rationalisations throughout will resonate with the reader.
The book touches on some important topics while keeping the feeling light and non-commital. Ava broaches the subject of being a closeted Queer woman in Ireland while also talking about the different relationships she has with different family members. She talks about predatory behaviour among some male friends at home in Ireland and then pivots to trivialising her feelings for both Julian and Edith.
Dolan tends to skate by the more serious topics in favour of dissecting the sentences of her amours. She focuses on grammar, tenses and the fact that like many students who studied literature she doesn't have as much of a grasp of grammar as she would like. She is an English teacher after all and these are…Exciting Times.
A solid 4/5 for me. Some people may not like the long passages about clauses in language but overall it is a relatable story that ultimately tells us to own our choices and do what's best for us in the moment.