This decade will be remembered for the drive for 5, where Dublin created history last month by winning the Sam Maguire cup for the 5th time in a row.
Also, this decade had its problems with blanket defences and defensive systems ruining the spectacle of Gaelic Football.
It will also be remembered for the change in structure and the introduction of the super 8s, which the jury is still out whether it has worked or not, but the real story this decade is how Dublin lit up the GAA world with some sensational displays of football.
I've been given the task of picking my team of the decade, which proved a difficult but an enjoyable task.
1. Stephen Cluxton:
This was probably the easiest pick in the team, without a doubt the best goalie probably ever the GAA has seen.
2. Philly McMahon: Quality player. No nonsense corner-back and is capable of marking the best.
3. Neil McGee: It was a tough call between Johnny Cooper and Neil McGee, but the Donegal man just edged it here.
4. Keith Higgins: A serious operator at corner-back, can pop up when you need a score and also a serious engine.
5. Jack McCaffrey: Has pace to burn, probably the fastest player in football at the moment, and is well able to score in important games. A go-to player.
6. James McCarthy: Has won 6 All-Ireland titles – just couldn't of been left out.
7. Lee Keegan: Second Mayo man to make my team. Like his teammate Higgins, he can score at will from half-back. Great man marker too. He received player of the year in 2016 for his efforts.
8. Sean Cavanagh: The Heartbeat of Tyrone football before he retired, always produced a performance in high important games. Was Tyrone's go-to player for many years.
9. Brian Fenton: Was a toss-up for the last midfielder place between Fenton and Aidan O Shea, but Fenton gets the nod on this one. Player of the year for 2018.
10. Ciaran Kilkenny: Performs whenever he's on the field whether it's tracking back or scoring at important times – great player.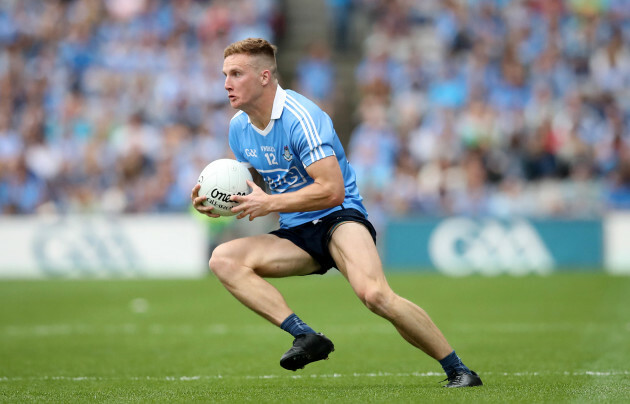 11. Diarmuid Connolly: You either hate him, or you love him. Serious footballer. Capable of doing anything on his day.
12. Alan Brogan: He retired in 2015, but he was probably the best in the business at his peak. Brilliant player.
13. Cillian O'Connor: His rival for this position was Andy Moran, but Cillian became leading scorer of all time; I couldn't leave him out.
14. Michael Murphy: Like Sean Cavanagh, The heartbeat of Donegal football. He gives his all every game and still produces some great football.
15. Colm Cooper: Last player on my team. A majestic footballer. Can score off his left or right. Very intelligent and very hard to mark. Up there with Alan Brogan. One of the best.
On the bench: Aidan O'Shea, Andy Moran, Conor McManus and Johnny Cooper.
Do you agree with this list? Comment in the Facebook post and sound off!