By James Roulston Mooney
Southampton face Liverpool tomorrow in their final game before the Premier League winter break begins.
Sitting in ninth after 24 games and currently on a decent run of form, one could optimistically say the south-coast side are comfortably safe this season, even if only eight points separate them from the relegation zone.
They are even closer to the European spots, being three points off fifth-placed Manchester United. With a continued positive run of form, Hassenhuttl's men could begin to dream of European nights, with the teams above them finding consistency in inconsistency.
With a trip to Anfield concluding a run of games that have proved positive for the Saints' team and their fans, one could even speculate the possibility of Liverpool dropping points at their fortress, or perhaps even becoming the first team to beat the league leaders this season. However, these feats seem less achievable than avoiding relegation when you're in the top 10 with 14 games to play, such is the quality of this Liverpool side.
In doing so, they'd become the first team to beat Liverpool in the league at their home in almost three years. To find records of a Liverpool league defeat at Anfield, you would have to go back to April 2017, when former player, Christian Benteke, came back to haunt the Reds. Benteke scored two that day to sink the Reds.
Since that moment, there has been a negative correlation between Liverpool's fortunes to that of their former player, who has scored five goals in 71 games and 3,664 minutes of football since, while Liverpool have been crowned champions of Europe and are champions-elect for the Premier League, in the eyes of the masses.
Liverpool boss, Jurgen Klopp's adversary on the sidelines that day, Sam Allardyce,  has been out of a job since 2018, most recently managing Liverpool's Merseyside rivals, Everton.
Liverpool, to many, look unbeatable, so how could Southampton, a team who lost 9-0 at home to Leicester City back in October, a demoralizing loss which left them nineteenth and seemingly hopeless to survive, beat the unbeatable?
From watching them over the past month, or more specifically their striker Danny Ings, I've found that there are numerous answers to support this question, but also numerous to attack it.
Ings, a former Liverpool player has had a resurgence this season, scoring 14 goals in the Premier League, registering one assist and featuring in every game in the competition so far for the Saints.
The once-capped Englishman has been one of, if not, Southampton's most important player this season, contributing to a massive 48% of Southampton's goals in the league.
Since the club's 2-1 loss to Everton at St. Mary's, which seen them concede 24 shots, one less than their humiliating loss to Leicester, Ings has scored nine goals. In the previous twelve, Ings had scored five, assisting one.
In the January fixtures, his two goals alone won Southampton six points. His Gascoigne-esque beauty against Tottenham Hotspur was the first of the two. However, it's not only his goals that have influenced his side.
Ings' best work at Southampton is the work he puts in off the ball – his pressing and his ability to drop deep and build potential attacks. In a false nine role, Ings flourished in January, sometimes being the standout player on the pitch.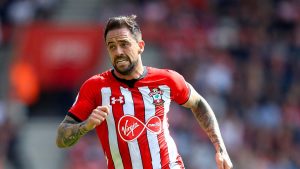 At home against Spurs on New Year's Day, Ings played 76 minutes, with his best moment being a brilliantly taken goal after 17 minutes where he put the ball over Tottenham centre-back Toby Alderweireld's head and placing it past the keeper, Paulo Gazzanigga, in the bottom right corner.
He worked hard in his false nine role, starting off numerous attacks, most notably playing a beautiful cross-field pass to Saints right-back Cedric Soares, now on loan at Arsenal, which almost led to another goal for Southampton.
Against Leicester at the King Power on January 11, Ings started strongly. The Winchester-born centre-forward was always on his feet against the 2016 league champions, forcing some nerves to creep into the Leicester back five as he led the Southampton press, almost scoring after intercepting a Leicester pass.
These nerves settled momentarily when Dennis Praet finished off a rapid counter-attack for the Foxes. Ings helped reinstate the nerves five minutes later, bringing down a pass and playing out to his strike partner, Irishman Shane Long, who assists Stuart Armstrong to equalise.
Ings hit the crossbar later on in the first-half, after latching onto an Armstrong cross. Ings' positioning for this play is a constant in his game, with the striker always looking to be the at the near-post for a cross, usually the first man.
The same crossbar denied Ings a wonder goal a minute later.
In the second-half, Ings finally got what he deserved, scoring Southampton's second, poking it past Leicester City keeper Kasper Schmeicel.
Ings completed the 90 minutes for the first time in January against the Foxes, ending the game defending against a persistent Leicester side, with his positioning proving important at a cross to rule Leicester centre-back Jonny Evans' goal out for offside.
Joyous celebrations from manager, Ralph Hassenhüttl at the final whistle summed up what the win meant for the team with Danny Ings' goal proving to be the difference between the pair and earning Southampton another three points.
Back at home on January 19, Southampton hosted Wolverhampton Wanderers. Ings was the best player for the south-coast side in the first half, with his pressing proving unbearable for their opponents.
Ings played between the defensive and midfield lines of Wolves, receiving the ball from these positions and playing it forward, racing ahead after his passes in order to be on the end of any potential crosses or plays.
Ings' positioning for crosses once again proved its worth, with his presence at the near post leaving Shane Long with enough space to get on to the end of the cross and score Southampton's second of the game.
His celebrations with Southampton's two goalscorers – Jan Bednarek and Long – shows a very supportive and caring side to Ings, who was first to celebrate with the pair.
His second half was less effective as Wolves got more control of the game as the half went on, ultimately running out 3-2 winners against the home side.
Danny Ings was on the bench for the trip to Crystal Palace to reserve his energy for the FA Cup clash against Spurs. His side nabbed a comprehensive 2-0 victory at Selhurst Park as he played the last 20 minutes, replacing Shane Long.
It's not only Ings, however, who has been a bright spark for this Southampton side. Other players like central-midfielder James Ward-Prowse and centre-back Jack Stephens putting in strong performances over the course of 2020's first month, with the latter earning a Player of the Month nomination. The pair, like Ings, contribute strongly to Southampton's defensive play.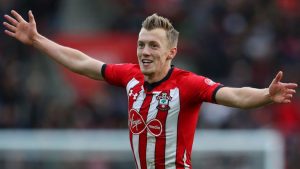 However, Southampton's defensive abilities are very weak. Although some players, like the trio mentioned above and Nathan Redmond, are very capable at employing Hassenhüttl's desired pressing system, when caught on the back foot, their press can fail and their defensive frailties can become clear.
Easy chances were given to the opposition time and time again in each game in January, which Southampton managed to get away with in some games, the comprehensive victory over Palace being littered with some very good chances for the hosts in a game that was otherwise dominant for the Saints.
The most notorious of defensive hiccups in January for Southampton was their second-half collapse to Wolves. The ever-reliable Raúl Jiménez and the explosive Adama Traoré tore the Saints' back four to shreds for their side's winner, with a lack of defensive awareness clear.
After collapsing to Wolves, a team Liverpool got the double over and kept a clean sheet against at their Anfield fixture, and getting lucky at times against Crystal Palace, Southampton will have to improve greatly at the back if they want to stop Liverpool's attacks.
With Liverpool changing tactics to a slower type of play this season, relying on careful build-up and well-timed runs from their full-backs, they have proven to be more resilient when facing a press than they were before. If Hassenhüttl is to inform his team to press at Anfield with this in mind, coupled with the knowledge of Liverpool's speedy attack, they may regret it.
Whatever the result is tomorrow, Southampton have come a long way from their home losses to Leicester and Everton a few months ago. On their day, they are confident and that confidence could prove important against the league leaders.