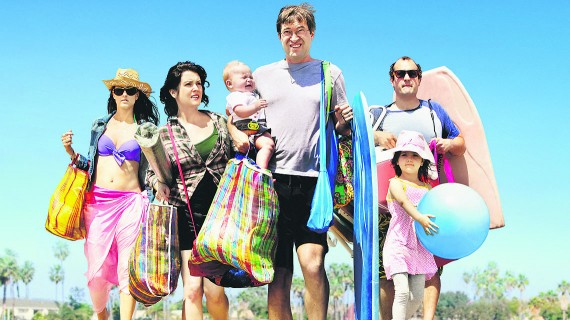 By Naomi Deevy
Huddle up under a blanket, put your feet up, you've earned this – time for some great series to get your Christmas teeth into! These are just a few of the many funny, smart, absorbing and downright binge-worthy box sets available right now. But don't just trust me, these scores speak for themselves.
Togetherness 
7.5 – IMDb
93% – Rotten Tomatoes
Follows a group of kooky, flawed and extremely engaging characters who maneuver their sometimes complex relationships producing moments that are moving and hilarious in equal measure. It's got heart, but it'll make you laugh and sometimes guffaw too. Overall, it's a well-drawn and meaningful comedy drama. Like a hearty, "Sunday dinner" of a box set.
Inside Amy Schumer
7.3 – IMDb
100% – Rotten Tomatoes
Amy Schumer should be on your radar by now. She's been doing stand-up comedy and has been showing up all over the place on talk shows and as a guest on other comedians' shows recently (30 Rock, Curb Your Enthusiasm). It was just a matter of time until she got her own show and it is just as outrageous, off the wall and unflinchingly irreverent as her stand up. As long as you're not easily offended, you will possibly split your metaphorical sides wide open with this one. Highly recommended.
This Is England
7.7 – IMDb
93% – Rotten Tomatoes
Gritty, captivating and un-stop-watching-able, 'This Is England' began as a spinoff of the hugely successful 2006 British drama film of the same name which is centred on young skinheads in England in 1983. The award-winning television version however, goes further and has evolved into an incredibly multi-layered and engaging series; the acting and writing quality here is exceptional. There are 3 series so far: '86 '88 and '90.
Transparent
8 – IMDb
98% – Rotten Tomatoes
Emphasis on the 'trans', this series follows Mort, whose wife and three adult children have some difficulty dealing with the fact that their father, after many years, tells them he is transgender. This one stars 'yer man' from Arrested Development. The series touchingly and hilariously deals with the trials of its characters and depicts a family who, above all, love each other for who they are. All the characters have a depth and individuality in their own right too. Uplifting and rewarding, but also extremely funny. Thumbs up.
The Affair
7.9 – IMDb
95% – Rotten Tomatoes
Follows the emotional and psychological effects of two couples' affairs and the aftermath of the initial 'fling' stage of their romances. It's got sincere, heart-wrenching performances, sexy bits, and some very real and human issues that are very well portrayed and will keep you coming back for more. Serious quality.
Dora the Explorer
2.5 – IMDb
15% – Rotten Tomatoes
Dark psychological drama following the struggles of an underage Latina trapped in a world of social injustice and systematic discrimination. This series tackles the issues that immigrants face in a socially inhospitable environment. She navigates this world where her only friends are a misfit criminal thief who goes by his gang name 'Boots' and a strange apparition calling itself 'The Map'.
OKAY, okay!  This last one was a joke – making this list a roundup of five of some of the best new box sets out there. Enjoy!