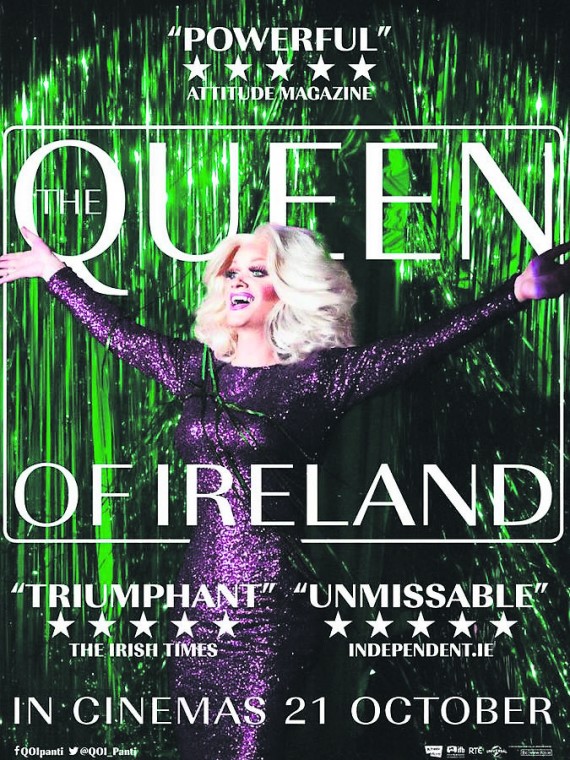 By Tomás Heneghan
It's Panti time! And no better timing than recent weeks for this moving story to be released into the wilds of Irish cinema.
The Queen of Ireland, as I'm sure many people already know, channels the life and energy of drag artist, Rory O'Neill as the one and only Panti Bliss. But more than that, the movie is a glimpse into the journey Irish gay men have travelled over the past 40 years.
Opening on the historic and jubalent scenes at Dublin Castle on May 23rd this year, the movie then progresses to a short synopsis of O'Neill's life as a child in rural County Mayo. As moving and beautifully nostalgic as this is, if you've read his book, Woman in the Making, prior to this, don't expect many surprises.
The story then follows O'Neill to Tokyo and reminisces through the creation of Panti. However, dispersed in between these areas are like little nuggets of gold are tasty morsels of history with added commentary from the likes of Senator David Norris and The Irish Times journalist, Una Mullally.
For an hour and half of film, things move quickly, a reflect on life perhaps? And then before you know it the story is into February 2014 and the now infamous, though more than likely famous, Panti-gate fiasco.
For anyone who doesn't know, during an interview on a Saturday night talk show on national television Rory O'Neill said some things about the 'h' word (that's homophobia for anyone who thinks they wont get sued by some overly litigious individual for the offence they might cause to heterosexual people when using that word).
Some people (and I wont name names because, like I said, some people can be overly litigious. It's just the way they were born though, like the gays and their gayness) from a certain Catholic think-tank, as well as an associate of the think-tank took massive offence to being labeled as homophobic for merely trying to stop homosexual couples, and others, marrying the people they love, solely based on their genitalia. Not homophobic!
Team Panti arose like Conchita Wurst's Eurovision Phoenix and just as the Streisand effect tends to result in, the people of Ireland, and in some cases, the world, suddenly rallied around this obscure drag queen from Dublin. Panti was a hero of free-speech, a victim of homophobia and champion of gay rights.
The movie portrays the scenes surrounding Panti-gate perfectly, from freedom of speech protests on a Dublin street to a gay Labour Party TD giving an impassioned speech in the Dáil about homophobia and the cowardice of our state broadcaster in paying a vast settlement and issuing an apology to the allegedly injured parties.
The move to the final months of the marriage equality campaign is then swift and it feels like time flying past, ironically quite the opposite of the real-life final weeks back in April and May this year. Perhaps that's one of the movie's failings in that it doesn't really capture the agonising wait of the final few weeks of the campaign last May. But given an hour and a half to cover an entire lifetime, as well as these massive national events, the film-makers achieved something fantastic.
As expected floods of tears will not be out of the ordinary in the final quarter of the movie. These scenes cover the referendum results day and the subsequent celebrations and no matter how involved you may have been in bringing about marriage equality for Ireland, you will be tied in to the emotion and euphoric joy of these final scenes.
A poignant and almost surreal moment then comes as Panti moves through the crowds at Dublin Castle that Saturday afternoon in May. She comes across a young man wearing a small amount of makeup. She turns from him without really noticing but then does a double-take, screams and goes in to hug him. Not unusual really, except that the young man shown is no longer in this world.
News of the man's death came almost two weeks ago as floods of heartbreaking tributes flowed through the vastness of traditional and online media. Even if a viewer of this movie didn't even slightly know this young man, you could easily be moved to further tears thinking of it as you watch. A tragedy, nothing less.
Panti then comes full circle and returns to Rory's hometown of Ballinrobe in Mayo to perform for neighbours, friends and family in a marquee on a wet afternoon. O'Neill explains, as he sits at his mother's old dressing table in his mother's old room, putting the final touches to his make-up, how he ultimately left Ballinrobe because of his sexuality, and by extension Panti Bliss, and now extraordinary it is that he is back in the town to perform as Panti for the same people he felt so different to at a younger age.
Fittingly the movie closes with Rory returning to his day-to-day life, as it was before Panti-gate, and no more fitting is the final scene as Panti lip-syncs to 'You're Gonna Love Me' and exits onto a stage.
Packed with comedy gold, joy, sorrow and many moments of confusion, even for a seasoned gay like myself, The Queen of Ireland may be one of the better movies to show in Irish cinemas in recent years.
My only real disappointment,I have to admit was the exclusion of any other LGBT successes and issues, such as the Gender Recognition Act. Though this points to the continued societal need to educate and fight for those marginalised, oppressed and ignored within the LGBT community.