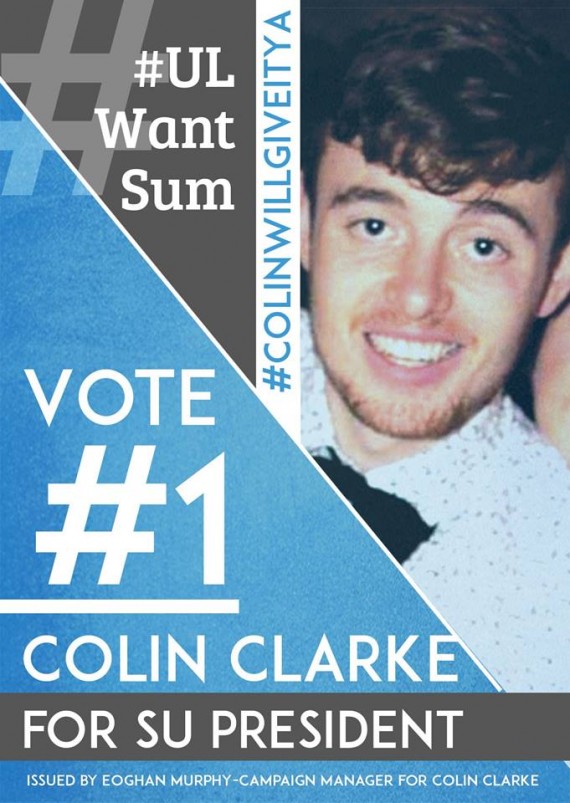 University of Limerick Student Council Chairperson Colin Clarke has climbed his way through various positions on committee and council level in order to reach the goal he set himself when he began his journey in UL four years ago.
Colin took to Facebook to announce his delight follow the election results: "On the first day of college during our first year induction in the concert hall I listened to the president and he spoke so passionately about the college. I thought to myself I would love to be that guy and today I can say I will be".
Colin is in his final year of a Bachelor of Arts (Joint Honours) degree.
His plans for his year as ULSU President include:
Working towards equality for students
Improving mature and international student facilities
Improving clubs and societies involvement with the community
Improving student health and wellbeing through counselling department and other health resources.
Reviewing repeat fees and I-grades
He actively supports a "yes" vote in the upcoming marriage equality referendum
An original aspect of Colin's campaign was his passion for student media by improving general facilities such as WiFi on campus and the creation of a full time An Focal editor.
"I actually did first year Journalism and New Media; we used to have a full time editor because there used to be campaigns and communications sabbatical officers. We could do it two ways we could employ a full-time editor or we could bring back a fourth sabbatical officer who would run An Focal. This would obviously have to go through Students Council but I would really push for a fourth sabbatical position for the next year".

By Michelle Hogan