The post-Christmas period in Italy has been so far, as eventful as it was pre-Christmas. Where Pioli's Milan stomped with smugness in their title ambitions with a form whose embers were ignited in the post covid period of last season with the likes of Ismaël Bennacer, Franck Kessie and Theo Hernandez severed as the safety net for Milan, while the 39-year-old walking Swedish trash-talking generator, Zlatan "Lion" Ibrahimovic spurred a Milan side to their best start to a campaign in over a decade. Top and unbeaten at Christmas, Milan turned their doubters into a frozen state of shock.
With Juventus suffering turbulent teething problems with rookie manager Andrea Pirlo. The door was (and very much still is) open for Milan's first league title in a decade. But form, as always, is temporary. Milan, through injuries, suspensions, and covid cases, we're stretched thin in their defeat to defending champions Juventus. A Juve performance typified with a pristine display from Paulo Dybala inflicting Milan with their first league defeat in 10 months. And losses after a long run without them, operate like buses, as soon as one comes, another follows soon after. The following loss was dished out by the entertainers of Italian football, Atalanta. A side that averages as many goals per game as their fans do heart-attacks, given how high risk they play. But Atalanta cannot hold a candle in cardiac induced troubles, compared to Milan's next opponent, City rivals, Inter.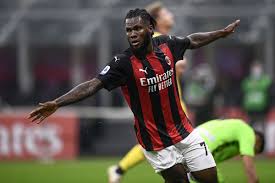 Whose rollercoaster season is almost a bad clique of them at this stage. Losing to Milan early in the season and coming rock bottom of their Champions League group, left Inter and Manger, Antonio Conte on thin ice coming into Christmas, but that ice has substantially thickened coming to the end of winter. A winning streak ended by Sampdoria, and then an unambitious draw with Roma. With the dark shadow of history looming over Inter, their next opponent Juventus had enjoyed their recent history against Inter, with Juve enjoying 5 wins and 2 draws against Inter in their previous 7 fixtures stretching back to 2016.
It took a heroic performance from Nicolo Barella, Alessandro Bastoni, and former Juventus player Arturo Vidal, for Inter to finish victors, and by a fair distance, with the final 2-0 scoreline more than flattering the Juventus players. A second wind for Inter snuffed out quite quickly with a 0-0 with Udinese in their following game.
But a win and a draw in the last 2 fixtures were much more than Milan could bring, coming into their Coppa Italia quarter-final matchup with Inter, their city rivals, in their Derby (Derby Della Madonnina) on a Tuesday night.
Both managers went for blood in more ways than one. Inter's side still deploying a defensive 3-5-2, Conte's inclusion of Ivan Perisic as one of the attacking wing-backs showcased an enthralling gunfight was sure to follow. Inter started the game slower, repeatedly luring Milan by playing out from the back, only to pass to Barella, who would spray long passes to either wing-back or Lakaku. Hesitancy in front of goal, a pause to shoot to find a better player in space corrupted so much of Inters final third possession, along with Matteo Darmian being bullied out of every ball by Kessie.
A slow but ultimately blunt attack cost Inter with a deep free-kick dropping the ball to Zlatan's feet whose attempt snuck into the inside of the post by a matter of centimetres. Milan however still played second best for the rest of the half, opting for a more physical approach, fouling and battering the like of Barella and Lukaku in an attempt to break the flow of the game. A physical strategy that resulted in a war of words between Zlatan and Lukaku, with remarks too risqué to be quoted in a place like AnFocal. Lukaku was riled up the most, Zlatan remarks had succeeded in getting under the Belgian's skin. So much so the referee called halftime a minute early into the 2 minutes added on, to subdue the temperature out on the field.
In the second half, Inter continued to flex their authority over the game. Milan's tactical foul response backfired with Zlatan being sent off over a reckless foul on Aleksandar Kolarov, just before the hour mark. With Alessio Romagnoli's shoulder barge into Barella's face (Who was nearly 2 feet off the ground) left Barella, yet again dazed from Milan's targeting of him as Inter's heart in midfield. It was Barella who used this insistent fouling to forage a penalty in the 70th minute. With Lukaku showing no traces of his temper in the first half, to calmly blast the ball to make it 1-1.
A hero that bloomed out of the game was Milan's backup Goalkeeper Ciprian Tătărușanu, whose late-game efforts managed to halt Lautaro Martinez from scoring his much-needed goal. Inter substitutes Achraf Hakimi, Ashley Young and Christian Eriksen showed a willing intent to kill the game before extra time. With Barella seemingly teleporting to always be in the right place at the right time to snuff out any counter, Milan made late on.
In his only meaningful full contribution to the game, Martinez earned a foul against Milan newcomer Soualiho Meité, which led to Christan Eriksen dusting off the past two seasons to showcase his brilliance with a clean-cut knuckleball free-kick goal. Winning the tie in the 7th minute of injury time, the injury being that of the referee, who suffered a calf injury.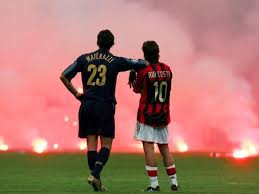 Conte post-game was quick to praise Eriksen and ensure his future, with the hope this ignites his career with the Nerazzurri. Barella (a child of an Inter supporting household) stating that Inter showcased why they are a better team than their city rivals and title contenders.
Inter and Milan don't face off again for another month in which time, Milan's 2-point hold on the top spot could be enlarged by the time of the next Derby Della Madonnina, with games against relegation battling sides are in store.
4 points from Roma and Juve as well as a derby victory can't be seen as anything other than success for Conte while 3 losses against title rivals are out of character for this Milan side.
With a season so unpredictable (given Juventus's troubles) the worth of a substantial psychological win against bitter rivals in a derby game for the ages could be worth its weight in gold, or at the very least a title.