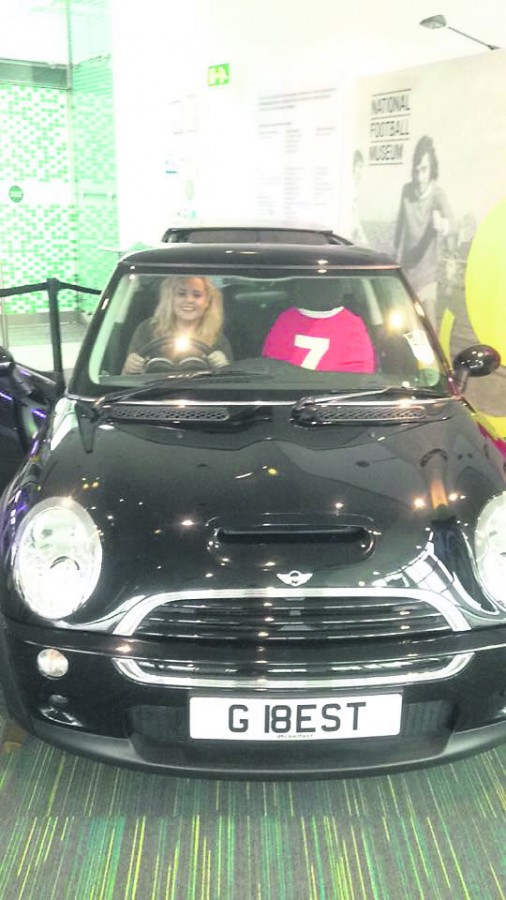 By Sally Gorman
So a lot has happened since you've heard from me last. It's all go over here and I am just heading into Week 4 of "uni" as they like to call it.
It's so hard to believe I'm here over a month already. Time flies when you're having fun I guess?
At this stage my modules are full swing and I love them. Here I am taking three: TV News, Radio and Presenting.
The reason I wanted to study here in Salford was because of its connection with Media City UK, the range of equipment and training available to students and the incredibly experienced lecturers. Most of whom have or still work for the BBC, impressive eh?
TV News is a first year module taught by Andrew Lindsay. The reason I'm taking a first year module is because of the way the timetabling worked out. It was the only TV module available to me this semester.
Being honest I am glad it's a first year module. It means everyone is on the same page and at the same level. Whereas if I joined a second year TV class I would be playing catch up until I got to grips with the cameras and studios.
Another advantage of being in the first year class is that everyone else is still finding their feet in this new city and on campus too. Everyone is still making friends and getting to know one another – I am no different here.
Second year radio is a different kettle of fish. Being honest, the second year class weren't overly welcoming and didn't make much effort to make me feel comfortable. It is a small class of about eight or ten and made up of mostly boys.
The module focuses strongly on hard news and serious radio journalism which is fine but a little difficult when you aren't very familiar with too many British broadcasters or presenters.
I am out of my comfort zone and that's not something I'm used to. I must admit that right now I feel slightly out of my depth in this class but I think it's a blessing in disguise. I need to push myself to be as good if not better than my class mates – I see it as a challenge.
I've been trying to familiarise myself with stations like BBC Radio 2 and of course 5 Live. Jeremy Vine is my new favourite interviewer (yes, the guy from Strictly).
My lecturer for this module, Marek Bekerman, has worked in radio for over 25 years and I enjoy his class but he doesn't give you an inch.
This semester I am also taking a presenting class with Jemma Gofton. You should recognise her from ads on the TV.
If I haven't mentioned it already, broadcasting is where I see myself when I graduate. Whether it's reading the news, reporting, corresponding or even presenting, I just know TV is for me.
So when I heard presenting was an option for me I was very excited as it focuses mainly on techniques in front of the camera, autocue and intonation. However, I was also apprehensive as this isn't a journalism module, but rather a performance module.
I knew it would be full of drama and stage school students and seeing as I am neither I was worried that I would be at a disadvantage. But I took the plunge, bit the bullet, threw myself in the deep end and funnily enough it is my favourite of the three modules by far.
Being drama students, my class mates are all very bubbly and outgoing and they honestly made me feel right at home. Two girls in particular have taken me under their wing and we are currently working on our eight minute show reels. It's all very exciting.
When I'm not in college I'm exploring. Manchester is a city full of little nooks and crannies and there are plenty of hidden gems that I have stumbled across by accident.
The buildings are beautiful, the museums are fantastic and don't get me started on the Irish pubs – The city is full of them!
Every Sunday since I've been here I've gone to a different Irish pub to watch the rugby. It really is like home away from home.
I've been trying to squeeze in as much as I can and take in all the main tourist attractions. I want to make the best of my time here. Speaking of Best, I even had a little spin in the great George Best's Mini Cooper.
The soccer legend's car is housed at the National Football Museum which was definitely worth the visit.
Most inner city attractions like museums and art galleries are all free and are a fantastic way to get to know the history and culture of Manchester itself.
I had my first night out just last week and it was brilliant, can't wait to go again. I must admit I was nervous at first. It's hard when you've still not found your bearings but its worse at night time. But safety in numbers and all that jazz. A crowd of us hit the town and it certainly was a night to remember.
We went to a club called The Factory – it was huge! Three floors and three different DJ's, need I say anymore?
The girls dress fairly casual on nights out over here. High shoes are rare but I'm not complaining. The boys on the other hand love their style and are dressed so well. Again, I'm not complaining.
I even ventured as far as Liverpool – another vibrant city right at my fingertips. I'll definitely be making a return trip.
I also have tickets booked to see The Coronas and Lawson. Both gigs are on during the same week so I'm really looking forward to that. The Coronas will be a nice taste of home.
Of course I miss home at times, that's normal though? It's the small things that get me, like seeing Snapchats from Icon on a Thursday night or missing the county finals in Cusack Park.
Not to worry though, as my best friend Ciara comes to visit mid-November so I'm counting down the days until I can show her all my favourite haunts and hopefully do some star spotting on the cobblestones of Corrie!