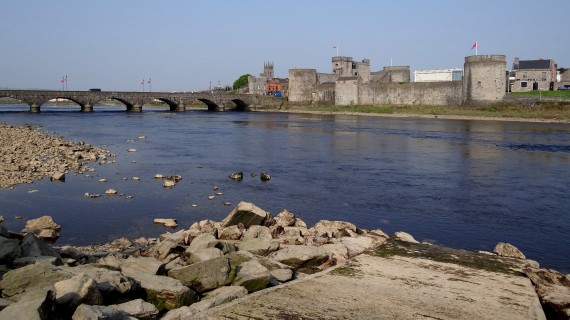 By Bárbara Campos
1. Strong accent, creative slangs, but very friendly people
If you don't understand the strong accent of the people of Limerick or the special and creative Limerick slangs, don't worry about it. Here you will find a very friendly people, so don't be afraid or embarrassed if in the beginning you don't understand what they are trying to say. Smile, relax and ask them to repeat it. Irish people, including class mates and teachers understand that their accent can be hard to comprehend, so in general they are very patient and will not mind having to repeat sentences as many times as you need.
2. Good "craic"
Please don't be confused about the term "craic" (kræk/KRAK) in Ireland. If someone offers you an opportunity to have good craic, this is no more than an invitation to have a very good time, with a lot of fun, and probably conversations and beers. The people in Limerick like to have fun, no matter where. It can be in a traditional Irish bar, or drinking beer in a horse-drawn carriage. Parties, "craic", beer, but also university and social life are some of the words that define the amazing balance that you can find in Limerick.
3. Cows and ponies on the side of the road
Milk markets, cows and ponies are not elements that you will find exclusively on the farm. Limerick is full of them and its people are very proud of it. The city has a unique mixture, thus you can see modern highways but just next to them some cows and ponies grazing.
You can take your bike and ride around the city. There are bicycle paths everywhere, so it's completely safe. You can enjoy the city, explore new places and make friends (people or sweet ponies) on the road.
4. Fishing on the campus and watching the salmon jump in Annacotty
The River Shannon will give you the most romantic sunsets ever. You can meet Irish friends, walk along the river and enjoy the "soul of Limerick".  The UL campus is the best example of this balance. You can ride your bike there, enjoy the view, sounds and colours of River Shannon but also go fishing at Plassey where you can catch all types of fish, and even watch the salmon in Annacotty.
5. Watch rugby on TV? No need! If you are in Limerick, just go to Thomond Park
If, in your country, you enjoy the matches on the TV or online, the people of Limerick are cooler than this. In Limerick you just need to go to Thomond Park, and enjoy live rugby. Yes! In the city centre you can enjoy watching the Munster rugby team. "Go Munster! Stand up and fight!" Also you can follow the Limerick Hurling Team who play hurling in the Gaelic Grounds in the heart of the city.
Culture, sports, funny slang, cows, ponies and lot's more to find in the city of Limerick. "Sláinte" folks! And enjoy Limerick.