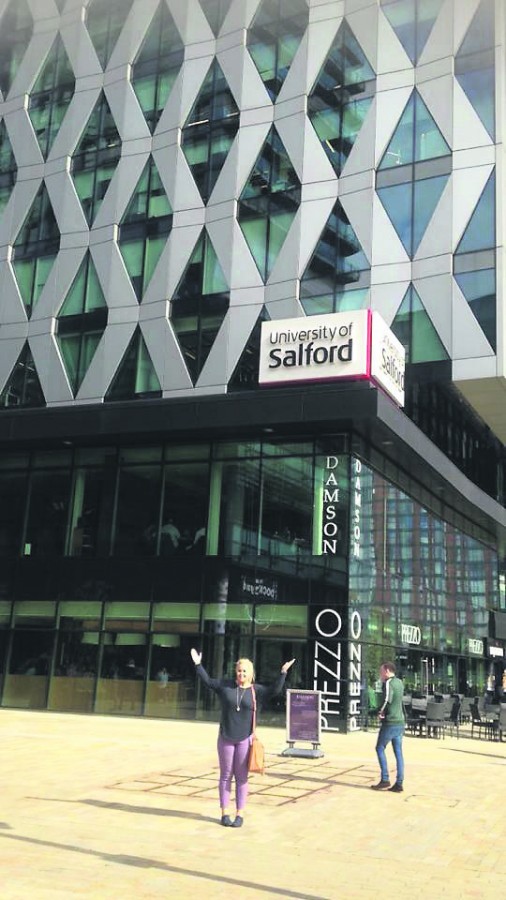 By Sally Gorman
So I'm just over a week here and settling in extremely well.
I flew from Dublin with Ryanair, quite an early flight actually, take off was at 06:20am.
My best friends drove me to the airport along with my little sister, Faye.
I was glad I didn't have the awkward goodbyes with my parents as I knew they were following me over in the coming days with more of my clothes!
So it really didn't feel like goodbye until we came to the point in the airport where my friends and Faye could no longer pass through.
Yes, I was a little emotional, of course I was emotional. Especially for my sister, we share a room and are exceptionally close, seeing her sad made me sad.
But being honest I didn't have much time to be sad, this was 05:00 and my gate closed at 05:50!
By the time I checked in my bag and made it past security my flight was boarding and I literally ran to my gate which I've never had to do before, ever.
And you know how far away Ryanair gates are right? Nightmare! But I made it.
The flight was so fine we were barely up before we were coming down, it flew – Excuse the pun.
Lucky for me I had a family friend pick me up from the airport and take me to breakfast in Little Chef – the equivalent of Mother Hubbard's in Ireland for those of you who don't know.
Yes, the first thing I did on English soil was have a big greasy English brekkie. Delish.
I then headed for John Lester Court – the place I'll call home for three months. I have to admit I was pleasantly surprised when I arrived – I mean you just don't know with student accommodation sometimes?
However, my apartment is perfect. It's basic but very clean, small but very functional. I have my own single room equipped with good lighting, a decent sized wardrobe and an incredible view.
I have a penthouse apartment if you like, I'm on the 13th floor. It can be a bit of a disaster especially for fire drills and the lift is very slow too.
Moving in with strangers was completely new to me, until now. Now, I live with a German girl, a Spanish girl and a Finnish guy – Julia, Rosa and Sasu – and I love it.
I'm the baby of the house. I'm so blessed that they are all so nice and speak really good English too.
John Lester is very conveniently situated. My closest bus stop, supermarket and McDonalds are all just a five minute walk. Ideal eh? Apart from the latter maybe.
Within the complex I have a free gym, a launderette and a common room with Sky TV. I must admit doing my own laundry was a pretty daunting experience at first and yes there is a battle for the TV especially on Saturdays! But if they are my only difficulties so far I think I'm doing well? Although I must admit I still haven't gotten used to the Sterling yet!
How am I adapting to big city life? Fairly good I think. I've surprised myself. I think I know Manchester better after one week better than I know Limerick after two years.
Why? Because I just had to throw myself in the deep end. I'm a home bird, I'm completely out of my comfort zone here.
I needed to find my bearings so I roamed the city centre for the first two days. By bus, by tram and by foot – the best way to see it and discover new things in my opinion. Probably not my wisest move but this is where I'm going to be for the next twelve weeks, I'm better off knowing the place inside out aren't I?
If you get stuck, ask someone, although the only place you could possibly get lost around here is in the Penney's. Three floors, ladies – yes, Manchester is home to the largest Primark in the whole world. Impressive huh?
The shopping is fantastic here and I haven't even been to the Trafford Centre yet. It's the buzz I love, the hustle and bustle of a big busy city life, it suits me. Everywhere is so accessible.
The public transport is incredible, buses, trains, trams and taxis are all so dependable and regular. The only thing I can downfall this beautiful city for is its litter problem. Those who know me, know how much of a litter bug I am and this really bothers me unfortunately.
The level of homelessness here is also very saddening. I was so shocked – it's the worst I've ever seen, especially at night time.
Saving the best for last, Media City is just something else – my sole reason for wanting to study in Manchester since day one. It has exceeded all my expectations. For a Journalism student with a keen interest in Broadcast, it might just be heaven on Earth.
The University of Salford have their own building within Media City alongside the BBC and ITV of course. Media students have access to their own TV and radio studio. They run their own radio station called Shock FM, have their own news channel called Quays News and I can't wait to get involved in both.
I am studying three modules here which have yet to be confirmed but all will be based in Media City. With only nine hours of class time a week, that leaves me with ample time to explore everything this place has to offer.
I have already met with other international journalism students from the four corners of the world and I can't wait to get started.
It's time to enjoy, create and explore.
I'll keep you posted.