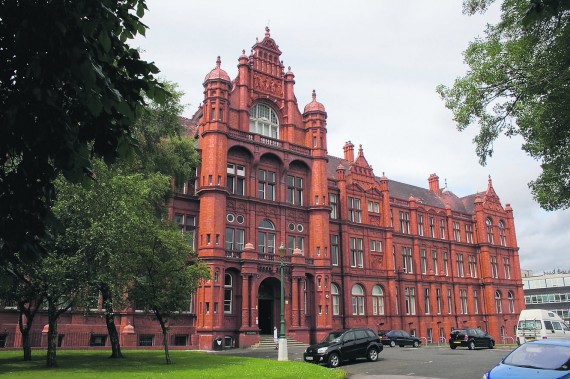 By Sally Gorman
By the time you guys are reading this I will be living it up in Manchester. Yes my Erasmus has come around, very quickly may I add and I am now officially a student of The University of Salford.
The last couple of months have been hectic. I've been booking flights, finding the right accommodation and choosing my modules.
It's all been very hands on but very exciting.
I am a third year Journalism and New Media student and when it came down to choosing my Erasmus destination Salford seemed right up my street.
When I heard MediaCityUK was part of the campus I was sold.
With the BBC and ITV studios based there what more could a future broadcast journalist want?
Let's not forget a bit of Coronation Street and Jeremy Kyle thrown in for good measure.
I could be hitting Rovers for one or two at the weekend!
Me? I'm a bit of a home bird so the UK seemed like an ideal destination for my study abroad semester.
I actually think I'll feel closer to home in Manchester than Limerick.
As crazy as that sounds Manchester is only a 50 minute plane journey away whereas being from the Midlands meant I travelled over two hours to get to UL. This I won't miss.
I still can't comprehend that getting to Dublin Airport was more costly than flying to Manchester.
Yes, believe it or not, a one way ticket to Manchester only set me back €9.99. Thank God for Ryanair.
Realistically, with flights at that price I could come home every weekend if I wanted to but I guess that takes the good out of an Erasmus doesn't it?
So far I am super impressed with how efficiently things are ran in Salford.
When I booked my flights the Erasmus office there kindly arranged for someone from their team to meet me at the airport and take me to my accommodation.
This I was delighted with as it's hard enough landing in a new city and not knowing where to go especially when you're weighed down with bags, bags and more bags.
I will be living on campus in Salford. I will be resident of The John Lester and Eddie Colman Courts for twelve weeks to be precise.
Not only is this my first time to stay in campus accommodation but also my first time to move in with strangers.
I'm not going to lie but this is what's stressing me out the most – the fear of the unknown!
As far as I am aware I will be living with three post graduate girls, here's hoping we get along.
It's all part of the package.
For the first time in my life I will be donning a single bed and that's not the worst part.
I'll also be sharing a bathroom with four others.
Maybe I'm just being picky or else Limerick has spoiled me the last two years but this is something I'm just not used to.
That will all have to change.
My accommodation looks basic but very clean and offers a free bus service to and from college every day.
Thank God because from what I've heard it's always raining in Manchester!
I'm also excited about the free gym in my complex.
I hope to come back a new woman, unrecognisable but hey, how many times have I said that at this stage?
On a serious note I am looking forward to getting back into my own routine.
I find that when cooking for one and shopping for one it's so much easier to be healthier.
Staying on campus is quite expensive. My first deposit cost me £500, which seems fairly standard until you convert to Sterling – a whopping €725 but it will be worth it.
It put my parents at ease knowing that there is 24hr campus security there too.
With the exchange rate being so bad at the minute I was stressing about money.
Because I am studying in Europe I am entitled to a study abroad grant of €250 a month which all sounds rosy in the garden until you do the maths and realise that really isn't so much in Sterling.
How and ever I plan on finding myself a part time job over here.
I don't expect it to be too difficult as shops will only be getting busier in the run up to the Christmas season so fingers crossed. I'll keep you posted.
I have my heart set on a jewellers in the Trafford Centre.
Maybe I'm being a little unrealistic but with five years' experience in this line of work I have a shot right?
The Trafford Centre will be my second home while I'm in Manchester no doubt!
I'm also really looking forward to sporting my United jersey and going to a soccer game in Old Trafford.
I'm not even a soccer supporter but when in Rome and all that jazz?
I think this is what my friends are most looking forward to and are planning their visits around.
The most difficult part to date has been deciding what to pack.
I'm a terrible packer of a normal time so you can imagine how hard it was for me to pack for a twelve week stint.
Do I bring bed clothes or do I buy them out there?
How will I find my warmest winter coat?
Choosing which shoes to leave behind…torture!
My Mam and Dad are flying out a day after me just to make sure I'm fully settled and of course to bring anything I may have forgotten.
The only thing I have to remember is that whatever we bring out I will have to bring home alone so I can't go overboard.
I'll have to unpack the kitchen sink!
As far as I know I will only have to study three modules in Salford on a pass/fail basis.
SO I shouldn't really be saying this but it looks like I will have a lot of free time to enjoy, create and explore.
Here goes!
Wish me luck…