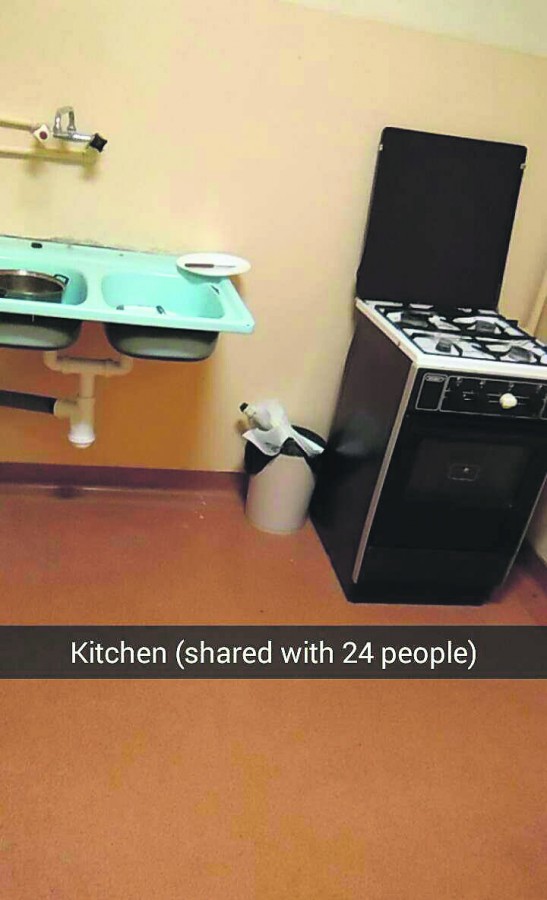 By Seamus Toomey
I've learned quite a few things in this one week of my erasmus semester. In this narrow space of time I've learned I'm unprepared, unorganised, incapable and damn well resilient. My first night I arrived and decided to get lost about the city. You see, around the time of boarding the plane, when boredom set in I read through my Erasmus e-mails. What I found was an email about my accommodation which said I couldn't check in after 2pm. Kind of a bummer seeing as I arrived at 9pm Krakow (Poland) time.
I figured it would be a good chance to walk the city and figure out where my college was and the surrounding area. So for 13 hours (minus one for sitting in a pub enjoying some god awful karaoke) I walked around the city. I did end up learning a lot about the streets and found a couple of grocery shops, a health food store and a vegan restaurant. As well as that I was hit on by a 43-year-old Norwegian woman, saw a man urinate in the middle of the street (while facing me) and experienced level 1, grade A, elite difficulty boredom.
Finally it was 10am and my orientation began. I showed up, suitcase dragging behind me. After a walk around the city (again) I went for food. Now it was 3pm.
"Ok, 2pm tomorrow I will be at my accommodation." I found a hotel, grabbed a handful of WiFi and looked up everything – where it was, how to get there – and set my alarm.
With everything set out I would finally have a place to settle in and at last somewhere to put my now nuisance of a suitcase. But alas, fate stacked the cards against me. Arriving at my accommodation at 11am I didn't realise it was my accommodation and spent two hours walking around the area. No one spoke English and everyone I asked pointed me in a different direction. So I found WiFi and e-mailed both my Erasmus buddy and my Erasmus coordinator in Poland. I got a reply within the hour and was told I'd be met at 4pm. I thought everything would get explained and the 2pm deadline won't stop me from checking in today, it'll all be explained. Nope.
Jolanta, my Erasmus buddy arrived, spoke with the accommodation and was told tomorrow that 10am would be perfect to check in. Not for me, so I booked into a hostel. "Tomorrow…I hope."
So now at 10am I was sat in an office signing random Polish contracts, quite possibly agreeing to slave labour for all I knew. Thankfully I was presented with a key (after I forked out my deposit) and was shown my room. I was sharing with someone, which didn't bother me, however that was about the only thing that didn't bother me. I soon discovered that I had no WiFi, was eight miles away from college and the city centre, didn't have any cutlery and shared a kitchen with 23 other people. The kitchen consisted of a gas stove and an oven that didn't work. Also the room was tiny (imagine a bedroom in College Court). Imagine that being your bedroom, bathroom and living room all in one, and that you share it with someone else.
Okay I wasn't sure if I was going to stay and make it work (no WiFi and the kitchen was freaking me out) or try and find somewhere affordable and nice (which would require effort). Over the next few days, after getting into multiple arguments with the staff in my dorm, I decided leaving was good for my mental health. Apparently I wasn't allowed bring my key outside the accommodation either – No, really, I had to show ID every time and get my key when I returned. Why? No reason.
All of these arguments ended the same way. I would be angrily met with Polish curses (the only polish I understood) and would reply "I'm very sorry, I only speak English" and try and figure out what they wanted. Then after being screamed at I would kindly inform them I was leaving because I was tired and wanted to sleep. Then I would leave while they got angrier with me for leaving. You don't want to hear about the trouble I had the day they lost my key in the reception.
I decided I would compare this to the vegan kebab shop I had been frequenting. The kebab shop had WiFi, was in the city centre, had a kitchen and the staff spoke English. I asked if I could stay, I begged, I offered to work for them – I honestly did none of these things, but I thought about it while stuck in my bed being kicked by my sleeping roommate (our beds were connected so we slept feet to feet and he was a kicker).
"Okay I'm leaving, good riddance deposit, soyanara crazy reception staff and aufwiedersehen roommate." I found a hostel and at €5 a night I'm comfy with my working kitchen, city centre location, WiFi and English speaking staff. I may rent a room, there's some available, but honestly this is easy and comfortable for the time being.
So moral of the story is don't give a deposit until you're sure you want to stay somewhere, maybe grab a hostel for the first week and look yourself so you can check out different accommodation. Be prepared, there are options but above all don't worry, you'll be fine. Also, it's totally not okay to return to a reception and attempt to burn it to ash in a satisfying, revenge-filled, attempted murder spree, police don't like that sort of thing and you will end up in jail.