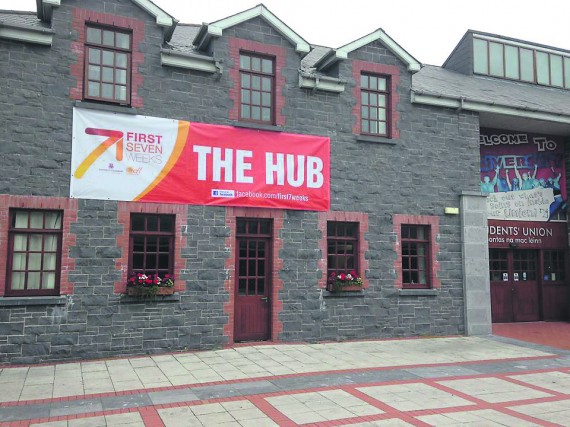 By Seamus Toomey
The First 7 Weeks programme is what you first years, incoming international students and returning arts students will be depending on to get around campus.
Admittedly I remember asking where the ever elusive Millstream building was in my second year here.
They help point you in the right direction, give you some helpful tips and make your first (you guessed it) 7 weeks a little easier so you get settled in ok.
Karen McGrath is one of the magnanimous people offering up their time to help you new-coming (and forgetful returning) students to get around campus (and much more).
Or in her own words: "We're here basically to help students settle in to college life and to make the transition from second level to college".
The First 7 Weeks programme helps students in many more ways you see. They'll be bringing in guest speakers and providing other services in conjunction with different events such as mental health week and health and wellbeing week.
It's a programme that's beneficial to the college and its students, as Karen McGrath says: "obviously happy students make for happy lecturers, make for a happy university".
It was the first programme of its kind to be introduced to a college in Ireland and it's one of UL's selling points.
This year will be the second year that the programme sets up its base of operations (called the hub) in the SU Courtyard and it's likely to be their permanent base for the years to come.
This is a particularly essential set up because without the hub there wouldn't be a place for people to ask those embarrassing questions that they won't ask on public forums such as the first First 7 Weeks programme's Facebook page.
There'll even be blood-pressure checks and breast checks that UL Arena will be helping out with.
For the first week there're two guides at every entrance door for every building and these are a massive help to get you around to where you need to be.
This is because week one is such a busy week and this is simply needed to help alleviate the amount of questions they would otherwise get.
But after this, as week eight approaches and the First 7 Weeks programme ends, footfall dwindles and people learn to find their way around campus.