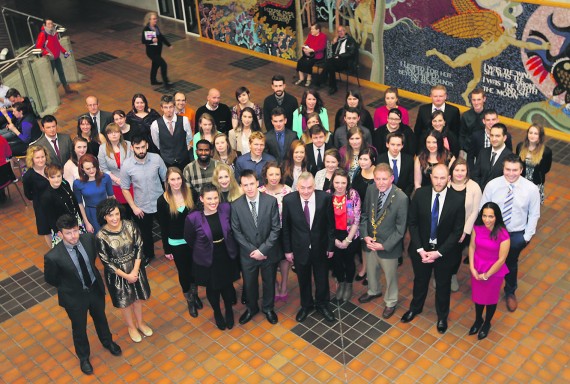 (PVA ceremony 2014)
By Johanna Griffin
We can all take a trip down memory lane and remember the feeling of opening our CAO offers with trembling hands. No matter how hard you spent the night before convincing yourself that you'll be ok if you do not get offered your first place, you ripped open your letter and your hopes were high. For us lucky ones we got offered the University of Limerick, voted Sunday Times university of the year this year.
The University of Limerick did not get voted No. 1 in Ireland for its academic courses and excellent resources only, it got voted No. 1 because it also offers all students an all-round amazing student experience. One of these experiences is volunteering.
As a fresher I never knew about the supports and encouragement provided to student volunteers by the Community Liaison Office (CLO) at UL. I only learned about this when I attended a co-operative interview for the post of President's Volunteer Award (PVA) Administrator in my second year at UL. It was only then that I discovered a unique and unsung programme that was reaching out to help students and provide them with the best possible way of enhancing their student experience.
Before I started my co-op placement with the CLO I didn't know that UL staff would work with local, national and international community organisations to create student focused volunteer opportunities – Or that UL recognises, supports and acknowledges student volunteers, whether they volunteer through the PVA, at home, in UL's Clubs and Societies, on UL campus, in Limerick city/county or abroad.
As well as that, I never knew the President of the University Professor Don Barry is so supportive of all student volunteers. In fact the entire UL community, the organisations hosting student volunteers, friends, family and fellow students turn out to support student volunteers at the Annual PVA ceremony.
This year the PVA ceremony takes place on the 25th September at 3pm in the University of Limerick Concert Hall and Freshers are all invited. UL is also the only higher education institution in Ireland that formally acknowledges volunteering on the student transcript.
Anyone who graduates with a PVA on their student transcript will walk into an interview with something more than any other graduate. I urge any student out there, who is not already volunteering and has one or two hours a week to spare, to go to the PVA website, www.ulpva.ie and browse the opportunities.
Whatever your interests are; working with adults, children, animals, sport etc. you will find an opportunity that suits you. You may not have volunteering on your mind at the start of Freshers Week but on your graduation day when you hold your degree in your hand, don't regret missing out on the UL student volunteer experience.
Take my word, when you get involved in volunteering you are giving yourself a real opportunity to develop professionally and personally and gain a really valuable student experience that will benefit you when you enter the world as a UL graduate. Now that I am almost finished my co-op placement with the PVA (which has been very valuable), I intend adding student volunteering to my UL student experience and of course my transcript.
The University of Limerick through the CLO is not just supporting UL student volunteers, it is also leading the development of a unique national student volunteer database and website.  This new system will establish Ireland as the only country in the world that captures the collective voluntary contribution made by students in higher education and allow community based organisations to promote their volunteer opportunities directly to this group.
The website, www.studentvolunteer.ie, will be launched before the end of 2015 and will be fully functional in 2016. I am delighted that I got the opportunity to work with the CLO on the development of student volunteering and this truly unique student volunteer system. I am privileged to say that for the past nine months I have worked with some of UL's most inspiring and ambitious staff, students and community organisations both on and off campus.