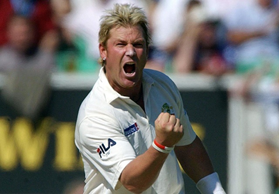 This news came in hours after the announcement of Australia's celebrated wicketkeeper Rod Marsh passing at the age of 74, with Shane being among the players who conveyed their condolences on Twitter.
He is to date applauded for his (708) Test wickets second only to Sri Lanka's Muttiah Muralitharan (800). He was most known for reinventing the art of spin bowling in the game of cricket during his Test debut against India at just 22.
His start to the world of cricket was comparatively slow, however he established himself on the global platform in 1993 at the Ashes Cricket Tournament and seized the ''Ball of the Century'' on his very first bowl with an impressive delivery that beat the England Batsman Mike Gatting at Old Trafford. Despite the international game rivalry, he did represent the Hampshire Cricket Team from 2000 to 2007.
He was embroiled in controversy in 1998, when it was found that Warne, along with fellow Australian cricketer Mark Waugh, had been providing information to an Indian Bookmaker during Australia's Tour of Sri Lanka and both were fined.
He was also suspended from all platforms of cricket for 12 months before the 2003 World Cup after he tested positive for a diuretic. He had impressive comeback in 2004 and was one of the most sharp-witted players on the game and a great captain during his time. He retired from his 15-year international cricket career in 2007, and even though the Twenty20 cricket format came in after his international career ended, he did participate in the Indian Premier League where he captained Rajasthan Royals in the first year (2008) and secured the title.
He went on to coach and played an important role in the initial stages of the game.  The current Australian team learned of Warne's passing on their way back from day one of the first Test series they are playing against Pakistan being held at Rawalpindi.