The Resident's Association of the Park Retirement Village in Castletroy held their first public meeting last night, Tuesday 8th March, regarding conditions in the village.
The meeting took place in Castletroy Park Hotel and was well attended by residents, locals from the surrounding community and local councillors.
Roisín Ní Shúilleabhain, a University of Limerick Journalism student and organiser of the #saveourvillage campaign, live tweeted from the event.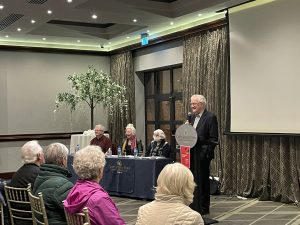 Dr. Kevin Ryan, a former professor at the University of Limerick and resident of the village, spoke at the event and addressed the gathered crowd.
He said, "We've reached a turning point. We have to make a major step forward or accept the situation.
"We need to increase awareness of the village and garner support to hold our place as a retirement village.
"The village was sought out by many retirees, many of whom sold their homes and came to live in the first purpose built retirement village in Ireland."
Dr. Ryan continues to speak about the changes in the village that came into effect when the Park came under new ownership in 2019.
Edel and Séamus Madden, the current landlords of the village, have come under scrutiny from the residents of the village.
One resident said, "If there are gaps in the law they must be highlighted and addressed. They (the Maddens) don't want residents, they want tenants."
Dr. Kevin Ryan gave an interview to An Focal last week in which he echoed these claims, stating that the landlords allegedly removed services and events for the elderly residents while also inadvertently removing residents in favour of young professionals who would then pay more rent.
He said, "We used to walk around and say to one another, 'What is changing this week?'"
"The residents who left couldn't take the strain anymore."
Some local politicians also attended the event, including Kieran O'Donnell, Fine Gael TD for Limerick City.
The state has a massive part to play in the need for concrete legislation in Ireland to support retirement villages, according to the TD.
Councillor Elena Secas also pledged to support the campaign as much as possible over the coming months.
The campaign has also been supported by prominent figures in UL such as Eoin Devereux.
You can follow the campaign by using the #saveourvillage on Twitter and by following @RVA_Limerick and the #saveourvillage on Twitter.