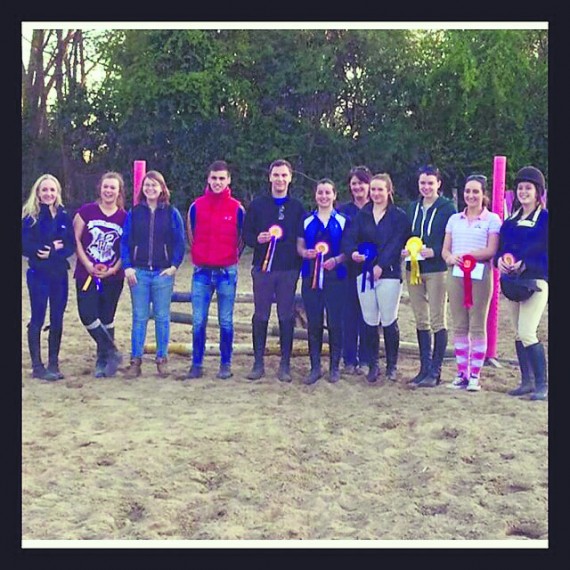 By Amy Doran
Welcome back to all our members both new and old. We hope everyone is as excited as we are about the upcoming semester. We have so much planned for the Equestrian club this year that our committee will be sure to be kept busy.
The year ahead is looking successful already if the number of people who signed up at the recruitment drive is anything to go by. With Tetrathalon only around the corner and Intervarsities to look forward to in second semester, we are keen to get preparations under way to help UL regain both titles.
Activities for this semester will kick off this week (Week 3) with our weekly lessons out in Lough Derg Equestrian Centre. All levels of riders are catered for and all gear (boots, helmets, body protectors) are provided.
A trip to Coolmore Stud in Tipperary is next on the cards, and following that will be a weekend beach trek. These trips are a great opportunity to get involved with the club, meet new friends and are guranteed to be great craic!
Also on the agenda for this semester is to do some fundraising for the club – maybe a bake sale or table quiz – and to finally get club hoodies.
After that, preparations for Tetrathalon will be well and truly underway. Tet is a national competition between colleges in November and consists of a weekend of running, shooting, swimming and show-jumping.
If competing isn't up your alley come along anyway as a supporter and enjoy the themed fancy dress party on Friday night and the ball on Saturday night. For anyone interested we hope to have team trials in October. Between all this we hope to have a few 'bonding sessions' in the Stables.
We are always welcoming new members. Membership for the year is €10 and for anyone who is interested, just message the club on Facebook or send us an email at ul.equestrian@hotmail.com.
Between all that, keep up to date with everything that's happening in the club on Facebook (UL Equestrian Club), Twitter (@ULEquestrian), Instagram (@UL_Equestrian) or even Snapchat us at Ulequestrian.