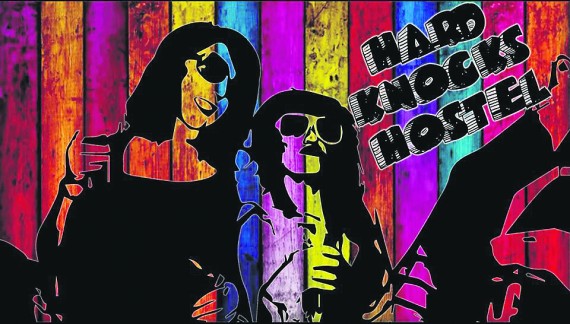 By Tomás Heneghan
In the continued series of interviews with UL graduates, An Focal spoke to UL graduate Karen Murphy who left the university five years ago to pursue her film goals after completing her undergrad in Law. She is also the co-creator of web-series Hard Knocks Hostel.
What did you study in UL and what, if any, impact did your time in UL have on what you're doing in your life now?
I studied Law & European Studies, (Law Plus now, I believe) with Sociology and French. Sociology was excellent grounding for documentary research, and for making me aware of problems with media representations, or under-representations.
I spent more time doing Drama Society projects than actual studies, though. I directed for the first time there, and loved it immediately.
After UL, you worked and studied in Galway for a while. Did this have an impact on what you wanted to do with your life?
I had already decided that I wanted to work in film, but I wasn't sure what aspect. I chose to do an MA in film direction & production, because it covered most aspects of filmmaking. It was intimidating to be in a class with people who had studied film already, and were much more technically proficient than me. Thankfully, my years of skipping class for drama and play reading worked to my advantage when it came to writing and directing, and I knew it was a path I wanted to continue on.
What inspired you to create Hard Knocks Hostel? Was there a moment or experience that pushed you to create the web-series?
I was in film school during the day, and the hostel where I worked at night. Being in a film-frame of mind at the hostel, I saw an endless supply of hilarious incidents and characters, and I felt it was writing itself in front of me.
Is there anything you would change about the series looking back now? 
No. There are things that I will avoid doing next time, but I wouldn't change anything about the series because its purpose was to be a learning experience, and what goes with that is a sense of letting go of needing it to be perfect.
During your time in UL, were you involved with any clubs or societies? 
I dipped in and out of a few, but Drama Soc was where I found my people. (People who would belt Disney classics, without irony, until 6am at some unfortunate person's house). I showed up late to the first drama class, and was too shy to go inside. I found myself directing the next semester though, and by the end of it I had met some amazing friends and collaborators.
Having left Ireland to live in Canada, what would you say were the main reasons for that move? Was it solely economic and employment circumstances or were there other reasons for your decision? 
It was mostly that I wanted to experience a new place, but I also wanted to go somewhere with opportunities to develop my skills. The film and TV industry is very active in Vancouver, so there are more opportunities for someone entering the industry.
What are your plans going forward? Do you think you'll return to formal education again or have you plans to move back to Ireland in the near future? 
I don't have a plan, apart from trying to keep writing and getting better at what I want to do. As far as more formal education goes, I think the best way for me to learn at this point is by doing.
If you could give one piece of life advice to current UL students what would that be? Would travel be an important experience for young Irish people?
If you split your dress at the Stables, just drop into the SU where the kind staff will staple it back together for you. And don't jump in the fountain.
If you have the urge to travel, then certainly! And if you're too broke, get a job at a hostel and meet people from all over the world anyway.