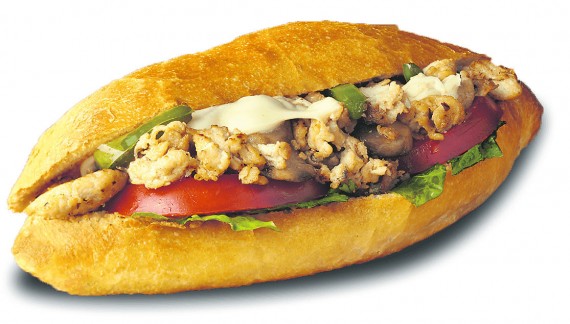 By Patrick McKiernan
New studies by the Irish Universities Nutrition Alliance (IUNA) has shown that the most eaten food in Ireland is now the hot chicken roll, replacing the noble spud. The study was conducted on 20% of the population from all over Ireland, on people of all ages.
A standard hot chicken roll will cost you anywhere between €3-4.50 and is available at the hot food bar in most shops such as Spar, Centra and Costcutters. The roll is most commonly eaten at noon by students, builders and crows who've scavenged the leftovers from that one girl who never finishes the roll to make herself feel better.
The implications of this survey are huge. It means that instead of being stereotyped as potato lovers by other nations, particularly the crumpet munchers, we can now expect insults such as "Chicken roll Fenians" and "Go eat a chicken roll ya peasant".
It means that if vegans take over the world, a new famine will emerge in Ireland – 'The Irish Hot Chicken Roll Famine' where approximately 98% of Ireland's 4.5 million population will starve to death before eating a vegetable. It means that instead of having spuds with your meat and vegetable for dinner, you have a hot chicken roll. Shops like Centra will become tourist attractions as people come from all over the world to try the famous hot chicken roll. It means that Ireland's life expectancy rates will spiral, with many hot chicken roll addicts expected to die before 50.
But do the people of Ireland really care? We interviewed student Jim Kelleher. "I'd rather die before giving up my hot chicken rolls. I get one every day in Centra on the way to college and one on the way home," Jim told us.
"That RTE documentary thing on the health risks of chicken rolls was set up by them vegan b******s to push their agenda, a load of s***e. I eat two chicken rolls a day and a kebab every night and I feel just fine."
Talks have been taking place in the Dáil on whether we should honour our new staple food and hold commemorations for our old, dearly beloved spud. Ministers congregated five minutes late because there was a savage queue at the hot food bar in Spar.
As he munched into his chicken roll, Enda Kenny said he was very happy that Ireland has finally recognised the hot chicken roll as its greatest invention.