By Seán Finnan
At the beginning of the 2010's Tyler Okonma was not widely well known to the general public.  Tyler Okonma or Tyler,the Creator as he would be known was at the forefront of a new generation of underground rappers, and by the end of the decade, he would've become one of the most celebrated and influential artists whose applied himself in such avenues as fashion, TV, direction, production and most importantly in the case of this article, music.
So if we turn the clocks back 10 years, we'd find Tyler having just released his debut Mix tape 'B*sterds' as well as fronting the hip-hop collective known as 'Odd Future'. It is not to be taken lightly how much this collective altered or influenced the sounds and the ideas found in many rap albums throughout the decade. Odd Future and Tyler were the main inspiration for the foundation of 'Brockhampton' a Hip-hop group that lit 2017 on fire with their 'Saturation' Trilogy.
Tyler oversaw upcoming rappers like Earl Sweatshirt and Frank Ocean join his collective at the turn of the decade.  Between Earl, Frank and Tyler, they would release eight number 1 albums in the 2010's. Especially noteworthy are Frank Ocean's albums 'Channel Orange' and 'Blonde' which are held up in the highest regards. Blonde, for instance, was named the album of the decade by both Time magazine and the highly regarded music website 'Pitchfork'.
Odd Future's rise in popularity gave Tyler the opportunity to bank in on his new gained successes. A year later in 2011, Tyler would release his first studio album titled 'Goblin'. An album that would not only provide a basis for what to expect from a Tyler,the Creator album, with tracks dealing with rejection, not only in his personal life but also from the music industry at large. Plus media companies not wishing to validate him as a serious artist, this idea of rejection can be traced from tracks like 'Nightmare' on 'Goblins' to 'Garden Shed' on 'Flower Boy' to any number of tracks on his latest album 'IGOR'.
It would come as no surprise to anyone who's listened to 'Goblin' especially tracks like 'Nightmare' and 'Tron Cat' that some of the lyrics found on this album were so controversial that it was part of the reason that caused Tyler to be banned from entering the UK in 2015. A ban that was only lifted in May 2019.
So 'Goblin' in reality set the groundwork and expectations for Tyler. So at this stage in his career the only way was up, the only decision was whether to pursue his own solo career or return to Odd Future and make music as a collective. In the end Tyler would chose, what we know now what to expect for him, which is neither. What he did do was return Odd Future with the idea of a TV show.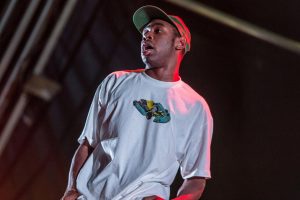 Now, not many artists who've finally struck it big in their industry would immediately reject all advice, drop any idea for future projects and decide to write and star in their own sketch/prank comedy show. That is where Tyler,the Creator is not your average creator. The show premiered the same week as Odd Future's debut album which landed at no.5 on the billboard Hot 200.
Tyler had been involved in the album while drafting up the ideas for the show. The show 'Loiter Squad' was green lit by Adult Swim, and premiered on March 25th 2012, with Tyler starring alongside his Odd Future members. The show was a hit not only with those at Adult Swim but also with the viewers. Their slots on Adult swim maintained the same level of viewership until its end in July of 2014, with Tyler citing that he no longer wished to continue the show after its third season.
The next few years would become pretty significant for Tyler and his dream of reaching the top of the music industry in his own unique way. His follow up to 'Goblin', titled 'Wolf' was released in 2015, reaching No.1 in Billboard's hip-hop chart and selling over 100,000 copies in just a week.
The album itself was underwhelming not in case the songs were mediocre or bad but for the first time Tyler wasn't ahead of the curve, he had diverted his music away from the grotesque nature that was found on 'Goblin' to a more laid back, conventional album. A similar miss step to what Kanye West would repeat only months later with his release of 'Yeezus',  both Yeezus and Wolf were and still are underwhelming albums, devoid of originality, that failed to prove any point but to caress an ego.
But whereas Kanye spent the best part of a decade trying to re-write this wrong, Tyler moved on and ventured off onto a completely different and new project. A new project that sounds like the biggest middle finger I have ever heard.
In April of 2015 Tyler dropped his third studio album, 'Cherry Bomb' and in all honesty, a bomb is the prefect word to describe this album. It is purposely all over the place, some of the songs are painful on the ears because how purposely bad Tyler made this album sound. Not many artists would pull this stunt on their fans. But it showed to his audience that he was still capable of shocking and shaking his audience to their core.
Tyler's level of notoriety with music's general audience was growing to new heights at this stage, he was on the verge of  becoming as household name and because of this he was large enough that people started to look into back his past to see if they could cause trouble. Complaints containing lyrics taken from 'B*asterd' and 'Goblin' were starting to be sent to the British authorities trying to ban Tyler from entering the country after he announced tour dates for his Cherry Bomb Tour that included four concerts in the UK. After the ban was placed on Tyler, he responded that they're treating him like a terrorist and that the ban was racially motivated.
In the meantime, a year before Tyler would drop any new projects, he called it quits on Odd Future. There would be no going back for Tyler now. But all concerning thoughts regarding Tyler's future would be washed after the release of 'Flower Boy'. Tyler's fourth studio album and up until that point his most critically acclaimed by far. The album debuted at no.2 on the billboard hot 200 with over 100,000 album sales in the first week, even after the album was leaked a week and a half in advance of its release date.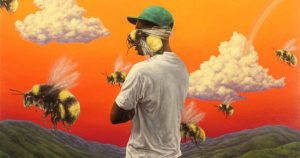 The album was at the time of its release, Tyler's most vulnerable album, strong themes of rejection reappeared but also lyrics and themes concerning Tyler's sexuality really dominated the discussion surrounding this album on a musical standpoint. Tyler had exceeded everyone's expectations, the sound and quality of every track was on a level even his fans didn't think he was capable of. The album also earned Tyler his first Grammy nomination for best rap album, eventually going on to lose out Kendrick Lamar's 'DAMN.'
Not much was heard from Tyler the following year, he released a handful of "throwaway songs" as he called them, throughout 2018, sounding very much like Flower boy B-sides.
In May, 2019. Tyler (after a small teaser) dropped the lead single and his new album 'IGOR' on the same day. The single 'Earfquake' and the album were met with unanimous praise. IGOR debuted at No.1 on the Billboard Hot 100 and also earned him his second nomination and first win at the Grammys for best rap album.
However Tyler wasn't fully pleased with his win, elaborating that he felt that the placing of IGOR in the rap category and resulting win was a "backhanded compliment" stressing that IGOR is not a rap album.
"People who look like me are always put in rap or urban categories…why can't we ever be in pop?" Tyler asked in an interview right after the ceremony.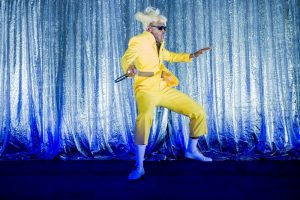 It felt like it was a pat on the head to keep him quiet. He's finally made it to the top of the mountain to sit amongst the gods but he's been placed at the kids table.
His reputation of being the outsider, someone not bound to the same desires as other artists is keeping from being put in the same category with the likes of Lizzo or Billie Eillish or Ariana Grande when his newest work has more similarities with their albums than any of the albums that Tyler was competing with in the Rap category.
At this point in time, at the start of a new decade, Tyler' stock has never been higher. He has shown how much of a creative and genre blending artist he is. He's worked and still continues to work with not only some of the industry's biggest legends but also collaborated with some of the most promising rising stars and starlets across a number of industries.
This could be the decade in which Tyler defines himself, this could be the decade in which Tyler sets the tone for his generation, and this could be the decade in which Tyler lays out the standards for what it means to be a creator.