By: Mike Finnerty
Comedy actors going straight and turning in critically acclaimed, award-winning performances is a narrative that is as old as film itself.
Jim Carrey, Tom Hanks, Steve Carrell, Eddie Murphy, Whoopi Goldberg, the list is vast.
And now you can add Adam Sandler to the list.
If you want the short version of this review, watch Uncut Gems – Adam Sandler will never turn in as good of a performance again.
It's possibly the best film he will ever be involved in.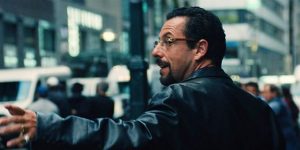 If you've ever suffered through one of his Happy Madison comedies that's an excuse for him to hang out with his mates, this is the Adam Sandler movie you've always thought he could make if he tried.
Of course, it's not like it was a state secret Adam Sandler always had the goods as a dramatic actor.
He was hand-picked by Paul Thomas Anderson for Punch Drunk-Love in 2002, was tapped by Michael Mann for 2004's Collateral before James L Brooks' insistent process dragged him into the mess that is Spanglish, it was evident that the former Saturday Night Live man was respected by some of Hollywood's biggest names.
But after Spanglish, Sandler went into a slump of just doing movies for his Happy Madison company, filming in beautiful locales and using his films as a chance to hang around with his old Saturday Night Live cast members.
Enter Benny and Josh Safdie.
The brotherly duo have been making waves on the American independent film scene for over a decade now, but 2017's Good Time earned them the attention of the mainstream and backing from heavyweights Scott Rudin and Martin Scorcese, who serve as producers on Uncut Gems.
What results is the most intense pulse-pounding thriller you will have the privilege to see this year, and a mic drop on the 2010's as a decade of cinema.
The film has the energy and tenacity of someone wanting to impress and not blow their big shot, and that tetchy and manic energy is present both behind and in front of the camera.
The film focuses on Sandler's Howard "Howie" Ratner, a gambling-addicted diamond dealer in New York City, who acquires an opal from an African mine.
NBA legend Kevin Garnett (playing a heightened version of himself) takes a shine to the object, and keeps it as a good luck charm for his big game against Philadelphia.
The opal gets lost, and suddenly Howie finds himself in a race against the clock to get the object back, all while dealing with the pressures of family life, love life, and the threat of loan sharks chasing you.
It's not an Adam Sandler film in the typical sense of the word; indeed, one would be hard pressed to remember a Sandler film that brings the viewer close to an anxiety attack and leaves you sweating like Christy Moore.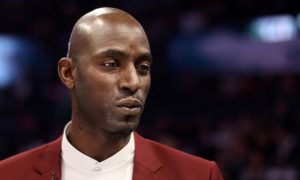 It's a shame that the film is only available to watch on Netflix (it did get a limited cinema release in Ireland and the UK, and this reviewer was lucky enough to witness the film in a cinema) as it's an immaculately crafted, edited and scored film from a technical standpoint and plays fantastic with a buoyant crowd, but it's also a testament to the films quality the anxiety-inducing effect is still present on a 5 inch smart phone as it is on a 20 foot cinema screen.
Sandler is joined by an impressive cast, including Idina Menzel, Lakeith Stanfield, Kevin Garnett as himself, pop star The Weeknd, and legendary madman Eric Bogosian, but the real stars of the show are two people you've never heard of. Julia Fox as Julia and Keith Williams Richards as Phil give two star-making performances.
Fox, in particular, is a revelation, with her turn as no-nonsense street girl with hidden depths turn an absolute joy to watch.
Keith Williams Richards also nearly steals the show from Sandler; what makes that statement even more incredible is that the casting director spotted him on the street and cast him in the movie because she liked the way he looked.
The former carpenter and 9/11 first responder is a bone-chilling presence in the film, and the hairs on the back of your neck stand up whenever he's on screen.
One hopes that these two get more film work after this, because nearly stealing the show from one of Hollywood's most magnetic performers is no easy feat.
These two naturalistic performances are the secret weapon in a film that is already loaded with a cracking screenplay, whip-smart editing and dynamic camerawork.
In short, Uncut Gems is a movie that we don't get very often, and should be treated as such.
If you've been wondering why doesn't Hollywood make good old-fashioned thrillers like they used to – the type you'd watch on a Saturday night on television with a pizza and a drink – then Uncut Gems fills that gap and then some.