By Mike Finnerty
After years of dubious Oscar wins, the Academy finally copped on and gave Oscars to films that deserve it.
Bong Joon-Ho's Parasite has made history by becoming the first-ever foreign-language film to win Best Picture.
The Korean cinema maestro also took home Oscars for Directing and Original Screenplay, making him the first person to win 3 Oscars in one night since the Coen Brothers' sweep in 2008 with No Country For Old Men.
Parasite also took home the newly-titled Best International Feature award.
It is truly hard to state how monumental this is, but in a word; the world of film has changed forever.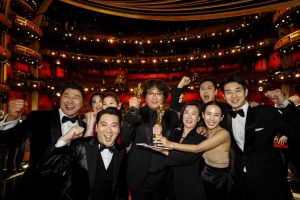 Roma came so close last year and lost to Green Book, and Crouching Tiger, Hidden Dragon lost to Gladiator in 2000, but this year, a foreign language film finally took home the big award.
And it just so happens they gave it to what is objectively, the best film of the year.
The Oscars don't get it right often, but when they do, it justifies following film as a hobby.
To quote the man himself: "Once you overcome the one-inch tall barrier of subtitles, you will be introduced to so many more amazing films."
Trying to think of an analogy to Parasite's win and its implications is impossible as it never happened before, but a good comparison is Silence Of The Lambs' unlikely 1991 sweep.
Silence Of The Lambs had a direct or indirect impact on films that were made in the 1990s in terms of tone, direction, cinematography and score – Parasite is that to the 2020s.
From now on, any foreign language film will be immediately compared to Parasite, for better or for worse – possibly for better, because it means people will actually care about foreign language films now and not just write them off sight unseen because it involves reading.
The four acting categories went as predictions and forecasts said.
Joaquin Phoenix took home Best Actor for Joker, and used his victory speech to champion ethical consumption of products produced by animals, Renee Zellweger gave a free-wheeling, yet sweet speech as she took home her second Oscar for Judy, Brad Pitt scooped his first acting Oscar for Once Upon A Time…. In Hollywood and Laura Dern finally got her due with her turn in Marriage Story.
Taika Watiti snagged Best Adapted Screenplay for Jojo Rabbit, Joker won Best Original Score, Ford Vs. Ferrari took home the main technical awards, and living Cinematography god Roger Deakins won  his 2nd Oscar for his work on 1917.
The big shocks of the night were 1917 seemingly collapsing in the dying minutes of award season and The Irishman going 0 from 10.
Indeed, Martin Scorcese now holds the unwanted record of having two films win 0 awards from 10 Oscar nominations – the other film was Gangs Of New York in 2002.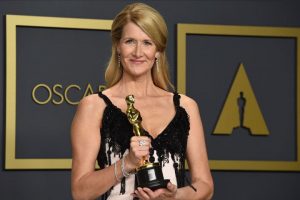 Laura Dern's win for Marriage Story was a positive note for Netflix, as well as it's Best Documentary Feature win, but questions will be asked at Netflix HQ having spent over 200 million dollars two years in a row on massive prestige films and not winning Best Picture.
In a pleasant surprise, Elton John won his second Oscar, and his writing partner Bernie Taupin finally got his hands on one, for the song "I'm Gonna Love Me Again" from Rocketman.
While the snubs this year hurt (how incredible would it have been to see Adam Sandler on that stage delivering a victory speech for Uncut Gems?) the Oscars – or indeed any awards show – never hit the spot quite like they did tonight.
If Moonlight winning Best Picture over La La Land in 2017 was an upset for the ages, Parasite's fairytale run was a miracle from a divine force.
To use a sporting metaphor, imagine if Croatia went all the way in the 1998 World Cup and beat Brazil in the final instead of losing in the semi-final.
You might not feel the effects of Parasite's win reading this article in February 2020, but you will feel it down the line.