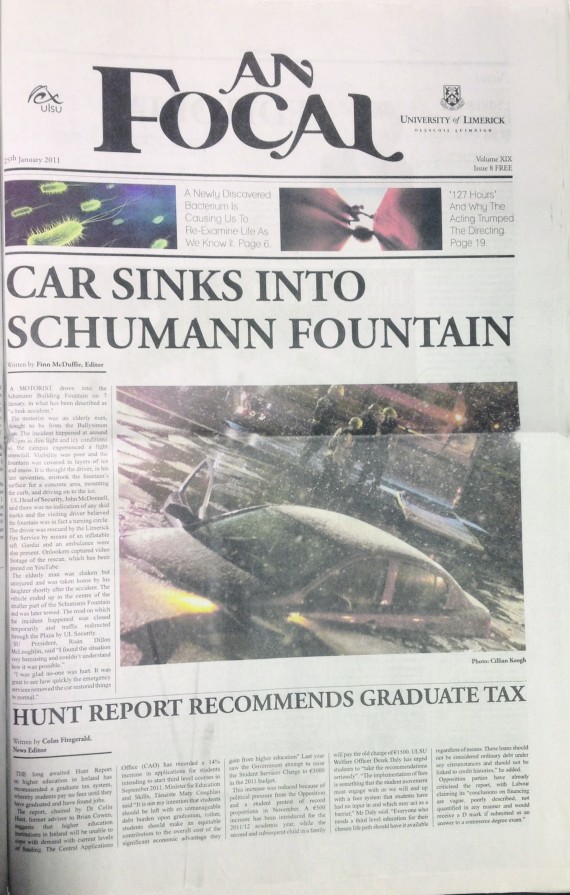 By Tomás Heneghan
Five years ago today, UL's students were greeted with this An Focal, carrying a front page that could easily be from today. Though there're no cars submerged in the depths of the Schumann fountain, students are facing into new and harsher waters in terms of their financing.
On January 25th 2011, the economy was on the floor, the government was crumbling after the sudden withdrawal of the Green Party from the governing coalition two days earlier.
Now we stand in a somewhat familiar position, in so far as there is an election due within a month. However, the economy now breaths easier again and the leading government party, Fine Gael is set to make history as it prepares to return to power for a second consecutive term. Fine Gael, in many senses now takes the mantle as Ireland's main party, the one we comfortably reelect for fear of the alternative.
"Hunt report recommends graduate tax," declares the headline of the January 2011 front page off-lead. The Hunt Report has recommended a graduate tax system for third level education in Ireland. This would introduce fees, however the cost would hit your pocket after graduation and only when you've found employment.
The typical UL student of 2016 now faces the same threat – or opportunity, depending on your point of view on the issue – as those who went before. A new possibility of a graduate tax system is now on the cards, despite the upturn in the economy, compared to the situation in 2011.
What can we say of the past five years then? UL has new buildings, a continually growing campus, further proposals for a new student centre to accommodate our booming student growth. Nationally we have a recovering economy and another government preparing to leave office – with very slim hopes of returning in its current form within the next five years, but yet equally set to make a history by facilitating its senior member to return to power for a consecutive term for the first time since the foundation of the state.
We've also now entered the long-awaited centenary of the 1916 Easter Rising. Is it a case of having changed, changed utterly, or are we still the same students, the same citizens as our predecessors of 2011?
Could the January 25th 2021 An Focal see our new library light up the front page, alongside revelations of a new student population of 17,000? Perhaps the front page will lead with a story on the abandonment of Thomond Village due to worsening winter floods? A new student centre under construction?
Nationally, could we see a return of Fianna Fáil to government benches? Maybe Sinn Féin will reach its ambitions and lead the 2021 government? Perhaps even a Fianna Fáil/Fine Gael coalition – although that scenario can't realistically be ruled out in the coming months if we're to be completely honest.
@TomasJHeneghan