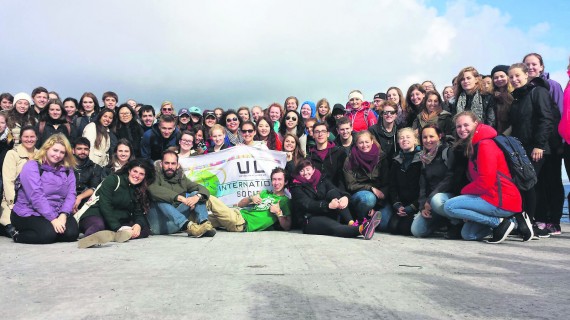 By Aoife Willis
One of the International Society's greatest joys is showing off our beautiful country. We have trips all over Ireland and our members absolutely adore them. In our excitement, however, we seem to have forgotten to introduce our visiting members to their host city. To rectify this we put together a short and slightly eclectic list of things to see and do in Limerick City.
The Hunt Museum
Yes, a museum on a city to-do list. How original! The Hunt Museum, however, is not your typical museum. In it you will find everything from arrow heads to jewels, even some of Renoir's work is hidden away in the many drawers.
Chicken Hut
A fast food restaurant on a to-do list, now that is a bit more original. Chicken Hut is the epicentre of activity at three in the morning as everyone makes their way from the likes of Icon and Costellos. A chicken fillet burger meal will complete any night out, and don't forget the gravy.
The Milk Market
The Milk Market is a slightly more cultured affair than Chicken Hut. Although it's open during the week, Saturdays are the days to go. When you've finished looking at the stalls grab a cup of tea or coffee and head upstairs to the raised seating area in the middle of the square. This is a great spot to eat/drink/chat or just sit and watch the world go by.
Salsa on a Thursday (We told you this list was eclectic)
Thursday nights, Shannon Rowing Club (on Sarsfield Bridge) hosts a salsa night starting at 10pm. This always has a great crowd and atmosphere and is guaranteed to be a good night. Beginners can take a class at 9pm and it costs €10.
Any of the pubs by the river
The Curragower and The Locke Bar are two particularly good spots. The Locke Bar often has live music in the evenings and is well known for its amazing food.
Be sure to like us on Facebook, where we will be posting a thing to do in Limerick each week.