Despite the common conception many may hold of students – unproductive and antisocial agents of chaos hurricaning through the streets in a malaise of cans and contraceptives – it has to be said that, like the rest of society, the studying class haven't had the easiest time of it lately.
The COVID-19 pandemic saw students across the board barred from campuses and classrooms for the full 2020/21 academic year. Some, even in the new academic year, have seen fit to defer their studies on account of the continuing pandemic and, to a larger extent, the growing national housing crisis.
Life is uncertain for students, many of whom are at a firm crossroads between waiting for life to begin and still figuring out what life is.
One thing that has remained constant for students, however, is their portrayal in the media. That, you won't be surprised to read, is still decidedly anti-student.
That's Limerick City.
Limerick is a fascinating microcosm of the student situation. It's a compact city but houses no less than six third-level institutions. Pound for pound, one of the highest population-to-institution ratios in the country. And how does the media at large engage with Limerick's student population?
With headlines like 'Increased Garda presence set for Castletroy' and 'Limerick Gardaí shut down 35 student house parties in Freshers' Week crackdown' of course.
It's not just the media either. One local Limerick councillor, the Green Party's Seán Hartigan, could be found on a recent instalment of Live 95's Limerick Today with Joe Nash saying: "You'd be afraid to drive on the road [in Castletroy]. You'd be afraid to leave your children out with the amount of glass."
Castletroy locals seem to feel the same way, with one resident commenting to the Independent that "for a middle class area, Castletroy is slowly turning into a slum."
Classist overtones in that last statement aside, who are these monsters who, in four years' time, will suddenly become productive, tax-paying members of society seemingly overnight?
Finding the Monsters.
We seem to be at peak cognitive dissonance when it comes to who we as a society believe students are and what we believe we can expect from them.
The University of Limerick proudly boasts about being among the 'top 200 global universities for graduate employability' yet also enacts strict no tolerance policies for student antisocial behaviour in the community.
Are UL students a beacon of employability or are they savages eating from bins like cap-and-gown-wearing feral raccoons? The truth is, they're probably somewhere in between. As we all are.
Yes, there are clearly problems around antisocial behaviour in university towns and cities. Of course there are. For many, universities are where the first steps into independent living are taken. As institutions, they provide a very specific time and place for social trial and error.
Does that excuse the antisocial behaviour? Of course not. But cognitive dissonance of the kind outlined above goes a long way in creating a very real stigma; not just around the student lifestyle, but around the very state of being a student.
The Kids Aren't Alright.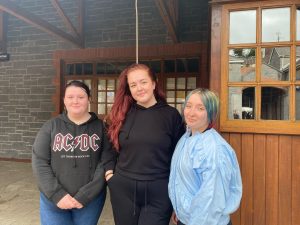 Many students now feel there is a very real, very loaded preconception surrounding student conception of identity.
"There's a lot of stereotypes around being a student," says Emma Brady, a first year student currently sitting a Bachelor of Arts in Criminal Justice at the University of Limerick.
"You know, you're in sixth year and you worked really hard, and then suddenly you're seen as like a bad person in society. You just want to have a night where you can go out [and] have a couple of drinks without all these looks from other people."
Emma isn't the only student who feels this way. Some have noted feeling an unwelcoming aura from publicans and other hospitality business owners, as Monica Pazejova, another first year student at UL, points out:
"Whenever we go out, people are more careful to let us into bars. When we went into pubs, they would look at us weird before they let us in. I think it's like they're making sure that we wouldn't do anything. They're more careful about us, even though we don't do anything. So it's pretty plain."
Another UL student, Wiktoria Nowak, believes the widely-held stigma may leave some students "scared to go out".
Housing Discrimination.
For another segment of Limerick's student population, the stigma around being a student has even impacted the ability to find adequate housing.
Aislinn Ní Ruairc, another first year Criminal Justice student at UL, feels that her student status has kept her from securing permanent accommodation and forced her to live in one of Limerick's premium-rate hotels.
"As soon as you mention the word 'student' to landlords, it's silent. Radio silence. Not everyone is going to wreck a place. Not everyone wants to be going mad every night. Some of us just need a place to sleep.
"As soon as you mention the word 'student'… Blank. Nobody will reply. They'll tell you, 'Oh, we don't want students. It's not suitable for people like that'. People like what? I just need a bed. I'm currently living in a hotel and it's not the nicest but what can you do?"
Yes, students make silly mistakes as they take their first steps into adulthood. Antisocial behaviour is prevalent in student towns and cities precisely because there's a large concentration of humans making mistakes and finding their social legs and thresholds. This isn't an anomaly, this is a statistical likelihood.
If you go into a room where a large number of people are learning to walk, you're going to see an equally large number of people falling down.
What we as a society need to not lose sight of is why students are where they are and what the end result of that is. Productive, tax-paying members of society soon to be among the most employable in the world.