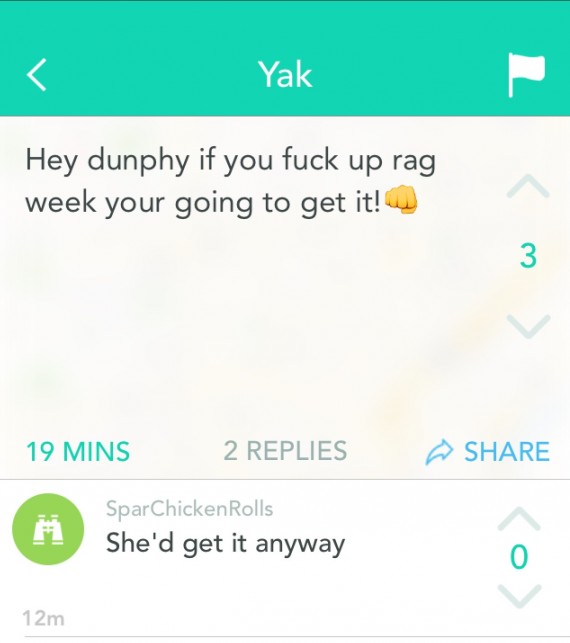 By Tomás Heneghan
"Hey dunphy if you f**k up rag week your going to get it!" *punch emoji*
"She'd get it anyway"
Just some of the contributions to Yik Yak following Sarah Dunphy's successful bid to become the next ULSU President earlier this month. No threats of violence or sexual innuendos leveled against her male competitors though. It means nothing of course – it's all just banter.
It was a Thursday night. Like the apostles at the last supper, the joint forces of Donal Foley and Stephen Egan O'Neil had gained advantage early in the night with their long row of tables in the Stables courtyard, all set to hear the results of this year's ULSU sabbatical elections.
Donal and Stephen Egan had run on a joint ticket for Academic and President respectively. And with them came a strong male vote. Upon the announcement of one male winner of a sabbat position, one of the crew threw his drink around the courtyard, completely disregarding the presence of other people and expensive electrical equipment. It was all just banter though.
With the Academic and Welfare seats filled, there was only one left: ULSU President. Stephen Egan  O'Neil, Joe Kearney and Sarah Dunphy had entered the race a week earlier, all with their own proposals for next year's presidency.
Unlike the almost unanimous and thunderous cheering for the other two incumbent sabbatical officers, when Sarah's win was announced, there was near-deafening silence. No more than a dozen or so people off to one corner of the Stables courtyard cheered.
Some suggested following the results that the quiet reaction to Dunphy's win was solely a result of Stegan's joint ticket run at the position. It of course had nothing to do with the fact she was a woman and had beaten two male candidates – no connection whatsoever.
Witnessing the reaction to Dunphy's win, An Focal tweeted a simple, factual and straightforward tweet: "Massive number of men cheering for Academic & Welfare. Almost all silent when president announced."
The immediate response was strange, to say the least, and seemed to be an attempt to deflect from what had actually happened.
"Purely circumstantial. I was present at the results announcement back in '13. Emma Porter got such a large cheer from everyone." (Completely irrelevant to the actual situation.)
"Stop creating controversy where there is none." (Tweeting facts can't reasonably be considered creating controversy.)
"Is there an insinuation sarah only got elected cause she was attractive?" (The strangest and most obscure suggestion to be made.)
But back to our friend from Yik Yak. Let's call him Jim. Now I wonder if Jim went home that weekend and warned his mammy on Sunday afternoon if she didn't have the dinner on the table by half one, she'd "get it"? Maybe Jim's friend, who he's brought home for the weekend for some free feeding, then pipes up with "she'd get it anyway". All just banter though.
But it's not, is it? It's not just banter to refuse to congratulate a woman who's just won a prominent role in a union, when there would've been almost unanimous cheering if a man had won instead. It's not just banter when you threaten to injure someone, solely because you think that person will take away your week-long drinking binge. There was no foundation to the assumption either, just the fact the person was a woman instead of a man. Sexism is not just banter.
ULSU is now fortunate to have a new capable and strong three-person sabbatical team to help, guide and lead the students of UL next year. More impressive is that in this year of the celebration of the equality of Irish citizens, UL students elected the third ever female Students' Union president in its 40-year history.