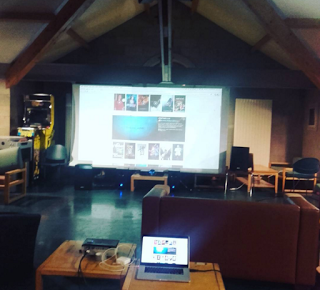 By Eilís Walsh
We embarked on our first semester of being a fully-fledged society in September 2015. Mainly what we wanted to achieve last semester was to gain loyal members and we plan on increasing our membership this semester.
As a group we regularly saw films in the cinema namely Macbeth and Star Wars: The Force Awakens. It's always a pleasure to analyse the film afterwards with people you know have the same love for film as you. We presented various lessons on lighting, sound, Hans Zimmer, audio and basic equipment for the filmmaker. However this semester we want to put a greater focus on practical work. In November we held our first event: a lock-in where we watched films from a variety of genres. Bringing together those interested in watching and making films was what we wanted and we achieved just that. We can genuinely call one another friends.
We hope to purchase brand new equipment solely for the society, which we can then let out to our members so they can be creative themselves. Our main and very ambitious aim is to write, direct and create our very own original short films. In our society we have a very diverse group of people, all drawn to different aspects of film. As a committee we want to really put some effort into this film, to make it as polished and professional as possible. This is where all of you come in.
We're calling for those interested in music, costume design, location scouting, scriptwriting and acting. If you like doing makeup, get involved! There are endless opportunities to get involved in a film. This is why we're asking all of you in different courses, whether Music, Media and Performance Technology to Engineering to join us. If there's a particular aspect of film you are interested in please don't hesitate to get in contact. We'd love to have you. Even if you have a love for just sitting down and watching film.
If possible we want to take a group of you to film festivals, workshops around the country and maybe even a studio to inspire you to create your own films. The more places we can go the better. Believe it or not 2015 was a revolutionary year for Irish film and we're hoping 2016 will be even better. We're not short of creativity or talent in Ireland and we want you all to contribute to our rapidly growing film industry.
Our society meets on a Tuesday at 7pm, new and old members welcome. By joining our Facebook page you can keep up to date with room changes and the society's activities. We want to have a society that really engages with its members. We hope to see you there!
Twitter: @ulfilmmaking
Email: ulfilmmaking@gmail.com