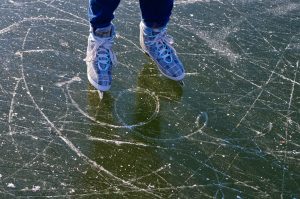 It has been announced that Limerick City's most popular Christmas time attraction will not be reopening for the 2021 holiday season.
Limerick on Ice's founder Fran O'Donnell has announced that the ice rink will not be operating for the first time in 17 years (excluding the 2020 season due to Covid-19 restrictions) because of issues surrounding insurance for the facility.
Limerick on Ice was founded when the Limerick City Business Association noticed a gap in the entertainment scene for the Christmas period.
They approached O'Donnell to devise an attraction for the city, so that they could attract more people to the city during the holiday season and compete against attractions in other counties such as Galway's' Christmas stalls or Clare's Doonbeg Markets).
O'Donnell then conceptualised the idea of bringing the seasonal ice-skating rink to Limerick City centre as there was no other such attraction in the Midwest region.
Since its opening in 2004, it has been visited by patrons from over 30 countries and attracts people of all ages from six to 80 years of age.
The closure of the rink will see almost 50 employees out of work this holiday season.
As well as this, the rink normally sees over 30,000 skaters and this will have negative implications for the entire city this Christmas season. It is estimated that the rink brings a further 20,000 visitors to Limerick City each Christmas season.
This reduction in footfall will decrease the holiday season revenue as patrons of the rink tend to not only ice skate but also shop and eat/drink in the local economy.
It has been revealed that the rink is not reopening as O'Donnell has been unable to secure a new insurance policy for the rink as insurance brokers have stated that they have no appetite for the leisure market in Ireland anymore.
He said, "Due to this, Limerick on Ice, as well as the wider leisure market in Ireland including other attractions such as gyms, bowling alleys, water parks etcetera, are struggling to obtain new policies as well as being unable to renew old ones."
O'Donnell added that insurance pay-outs had dropped by 40 per cent and pleaded with the Government to intervene to allow some businesses to trade over the coming festive period.
He said, "I know that the Finance Minister has planned a meeting with insurers, but I ask that that meeting take place with an immediate effect and that it is communicated to the Central Bank that they would be fast-tracked in this particular area.
"It's generally assumed within the insurance market that matters will stabilise next year. We had Brexit, then we had the pandemic and then we had a trend where awards are coming down by 40 per cent.
"I would ask that the main insurance companies in Ireland, just for this period of time, particularly over the Christmas period where you have activities for families, that they would look to provide the cover, just as a once-off, for this particular period to allow businesses like ice rinks to open for Christmas."
Despite hopes last month, there has been no provisions made with the Central Bank with regards to the licensing of Irish insurance companies to provide coverage to the leisure industry. O'Donnell expressed his discontent at the rinks incapability to get insured.
He said, "After being closed last year because of covid we had put strict measures in place to be ready for this year to ensure the ongoing safety of my staff and customers. Limerick on Ice has a 100 per cent safety record but still the insurance companies just don't want to know about Ireland.
"Something needs to be done to bring normality back into the insurance sector which is currently closing businesses down left and right."