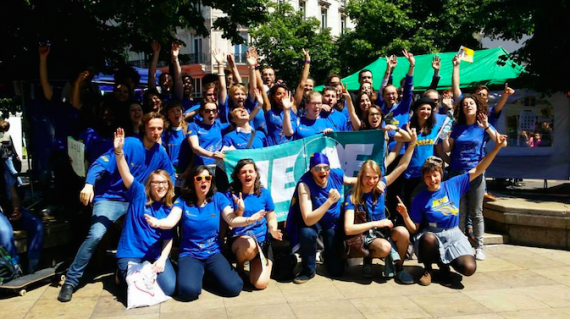 The European Federalists are on the lookout for volunteers to set up, run and expand our European network of sections.
JEF (for the students) is an organisation of young people from all over Europe who share a vision of a united, federal and democratic Europe. It brings together people at local, regional, national and European level to campaign for a federal Europe based on the values of peace, democracy and the rule of law. The UEF (for the grown ups!) consists of 24 constituent organisations and it has been active at the European, national and local levels for more than 65 years.  It was founded shortly after World War II with the belief that only a European Federation, based on the idea of unity in diversity, could overcome the division of the European continent that had caused the suffering and destruction of the two World Wars.
Federalists believed that only a common effort of European citizens working towards this goal could create a peaceful and democratic Europe guaranteeing freedom and the protection of human rights.
We organise seminars, conferences, campaigns, street activities and lobbying activities to work for the goal of a European federation. Activities this year include debating 'Democracy deficit or government gap?' in Brussels, the 'Debate and Training Weekend' in Madrid and the annual 'Give a Voice to Belarus' street campaign. Travel to the training seminars is sponsored by the EU so it is a great chance to rub shoulders with politically active enthusiasts and seasoned campaign organisers in Europe. The New Federalist is the magazine of the Young European Federalists. It is published three times a year and offers essays and analyses on European issues by JEF members.
We even have our own superhero, Captain Europe!