By Michaela Keating & Maria McGrath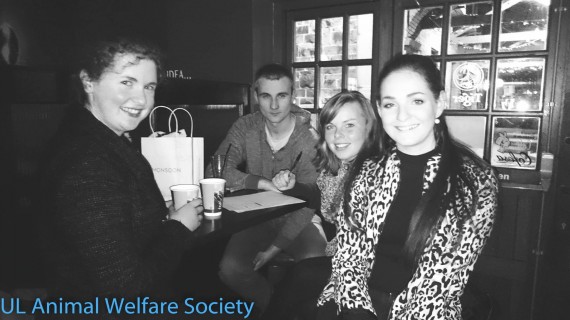 On 25th March, UL Animal Welfare Society held a table quiz in Scholars to help fundraise for Limerick Animal Welfare and also to raise society funds. We made an incredible €313.41 on the night and were delighted to see every seat in Scholars filled by all the students who came to support us. We would like to say a huge thanks to everyone that attended. The atmosphere was great craic and we hope you all enjoyed yourselves! We would like to say a massive thank you to Limerick Animal Welfare who kindly brought some lovely doggies on campus to boost everyone's day and also for giving us a talk regarding animal welfare.
We also want to thank all of the local businesses who donated fantastic prizes to the night and thanks to The Scholars for being supportive to the society and providing us with a venue. Finally our thanks go to Paudie Walsh, who was our Quiz Master for the night and who really made the night enjoyable for everyone there.
We are currently working on an upcoming project in which we will be creating an information video on the Animal Health and Welfare Act 2013. We aim to create an informative video that will break down the act into simple terms to teach people about laws regarding animal welfare, what's legal and what's not.
Stay tuned!