The University of Limerick's new lime green and forest green logo has received extreme backlash from students since it was revealed last Tuesday.
The rebranding project was the result of a €100,000 effort, an amount which some students feel should have been used for more pressing needs at the university.
A petition called "Repeal the Re-branding of the University of Limerick" was started on the day of the logo's big reveal, and at time of writing, it has received 2061 signatures.

Postgraduate student Jacklyn Cheely, the creator of the petition, said: "Throughout the past few months, I have listened to many students talk about what they would change about the school- whether it's faulty washers and dryers, a lack of sufficient parking, better funding for sports team uniforms, and so on. By spending €100,000 on a new logo, UL has prioritised a cosmetic change over the needs of the students, leaving many individuals feeling frustrated, ignored, and disrespected."
The new logo, which incorporates images of King John's Castle, the Shannon River, the UL flagpoles, and the Elk representing Munster, were labeled in the petition as "optically overwhelming."
UL President Dr. Des Fitzgerald said in his announcement on Tuesday that the rebranding effort had incorporated the input of 2,000 staff members, students, and alumni.
"This exercise brought into focus our rich heritage, history and set them side by side with our ambitions for the future," the President said.
Despite the claim that student voices were considered in the process, the petition states that since the rebranding, "many are left feeling unheard by UL administrators."
In addition, a student poll on the An Focal Facebook page showed that out of 1,003 votes, 83% of voters prefer the old logo, while only 17% are in favor of the new one.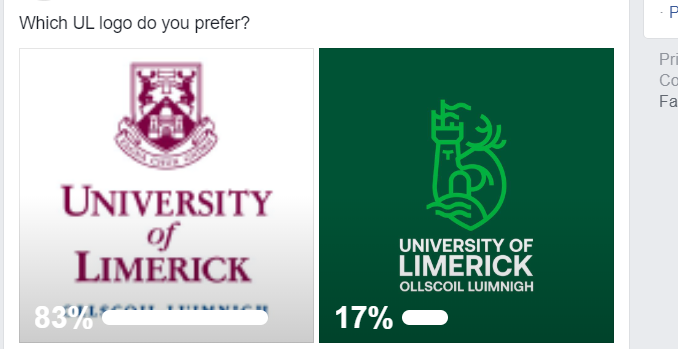 Ms. Cheely said: "After listening to many students talk about their perspectives on the matter, either on the petition website or in person, I'm hoping to, at the very least, show the administrators that students are upset over the lack of consideration given to their opinions.
"I feel that there was a huge breakdown in communication, consideration, and responsibility. I guess my end goal would simply be to encourage the administrators to henceforth listen to, prioritise, and address the needs of the students."