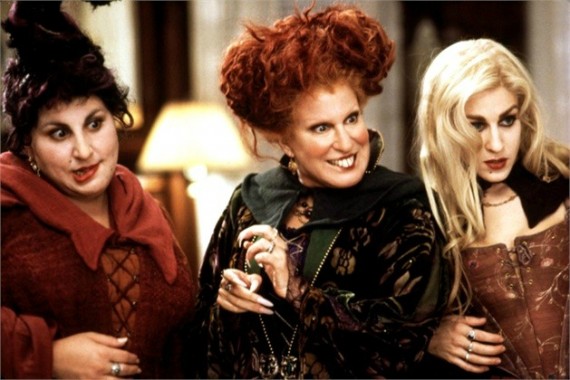 By Aisling O'Connor
Not everyone can stomach horror movies but that doesn't mean you can't get into the spirit of Halloween. For those less inclined to spend Halloween awake all night in terror, we've compiled a list of the best Not-so-scary Halloween movies.
1) Hotel Transylvania
It's quirky, funny, and who would have thought Count Dracula had a paternal side? Or owned a hotel for that matter! The second one is out and once again, Drac and his crew of ghouls are up to their own shenanigans behind his daughters back.
2) Sweeney Todd: the Demon Barber of Fleet Street
This is one of Tim Burton's best movies with the Johnny Depp and Helena Bonham Carter pairing. Benjamin Barker AKA Sweeney Todd returns to London with vengeance after being framed for a crime he didn't commit. It's intense, it's got one of the most morbidly catchy soundtracks out there, and we most certainly do get to see the worst pies in London.
3) Donnie Darko
It's perhaps not officially considered a "Halloween movie" but it's got a teenage Jake Gyllenhall playing the troubled protagonist Donnie who has a very special job to do. It features a cast of Drew Barrymore and Patrick Syazie, plus cameos from Ashley Tisdale and Jerry Trainor AKA Drake and Josh's "Crazy Steve". It's the kind of movie one struggles to describe and afterwards you're left pondering over what you just experienced. All I can say is that it's creepy but won't leave you shitting your pants, unless you happen to be afraid of giant blue bunny rabbits named Frank.
4) Ghostbusters
A group of scientists decide to hunt ghosts to earn money, after unleashing all evil upon New York City they must save it. It's a classic and let's face it, we can't resist singing along to the theme song. Rest assured if you run into any ghosts this Halloween, the ghost busters have your back.
5) The Addams Family
A con artist attempts to steal from the eccentric but wealthy Addams family by falsifying her son as their long lost relative Fester. The family is severely underestimated and their response to everything life throws at them is nothing short of brilliant.
6) The Addams Family Values
They're back and this most certainly does not join the long list of disappointing movie squeals. With a new arrival making Wednesday and Puglsey jealous of the new-born's attention the family is in danger once again as their new nanny isn't what she seems, Black Widow aims to kill but the Addams family, in all their gothic glory still manage to respond with the same hilarity as the first.
7) Halloween Town
We follow 13 year old Marnie's adventure to save Halloween Town after discovering she's a witch. It's an adorable, happy-go-lucky type of film, and oozing with nostalgia. Oregon actually reconstructs the movie set up each Halloween, I totally don't wish I could go.
8) The Nightmare Before Christmas
Jack Skellington, the Pumpkin King tires horrors of Halloween, the discovery of Christmas Town serves as his inspiration for a new holiday to conduct. The best thing about this? You can watch it again around Christmas and not get judged for being seasonally inappropriate.
9) The Rocky Horror Picture Show
This is by far one of the most well-known cult classics out there. The innocence of a young couple seeking help during a storm when they encounter the transvestite scientist Dr Frank-N-Further is tainted after encountering the transvestite scientist Dr Frank-N-Further and his entourage. Seeing it live or at an outdoor screening is quite the experience, but watching it at home is just as good, at least there you can do the Time-Warp in peace.
10) Hocus Pocus
When the three Sanderson sisters are resurrected by teenagers one Halloween, they're determined to regain their power before their time runs out. This is legendary as far as Halloween movies go. If Bette Midler's rendition of "I Put a Spell On You" and Sarah Jessica Parker's eerie "Little Children" isn't enough to connive you to watch it this then I don't know what is.