By Tomás Heneghan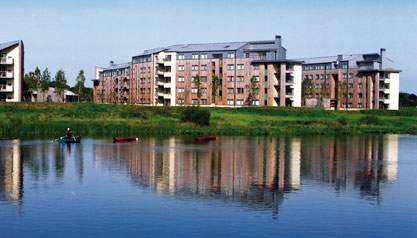 On-campus accommodation fees at the University of Limerick have increased by up to €260 in the past five years.
From the academic year 2009/2010 to 2014/2015 there was an increase of €260 in the rental fees for many of the on-campus student villages.
While the two-bed apartments in Dromroe, Thomond and Cappavilla Villages increased by €130, the increased figure of €260 applied to the majority of the accommodation.
The fees for Plassey Village in the 2009/2010 academic year were €3,380 for an eight-bed house. This figure increased by almost 8% to €3,640 in 2014/2015.
On the other end of the scale, accommodation fees for a Thomond Village two-bed apartment increased by almost 4%, from €4,940 in 2009/2010 to €5,070 in 2014/2015.
The fees have increased further for next year by 3.5%, meaning rental fees for the 2015/2016 academic year will range from €3,770 for a room in Plassey Village to €5,200 for a room in Thomond Village.
General Manager at Campus Life Services (CLS), John O'Rourke said the increase next year is due to increased operating costs and planned capital investment over the next three years.
Mr O'Rourke explained: "This summer we are rolling out WIFI across all the villages which will be ready for all students who return in September. We will have WIFI coverage in all living areas and bedrooms as well as maintaining the existing high speed wired connection in each student bedroom.
"In addition, this summer will see the commencement of an ambitious three year refurbishment plan which will focus on improvements in Kilmurry, Dromroe and Thomond Villages over the next three years."
He added: "The increase in our fees contribute to these costs and helps us to continue to provide a high quality student living experience on campus here at UL in a sustainable way."
While many students do not have to pay college fees, which can be up to and over €5,000 per year, some students are required to pay an annual student registration fee.
The student registration fee, paid by students who don't qualify for free fees, was €2,750 this academic year. This fee was €2,500 the previous year and is set to increase to €3,000 for 2015/2016.
Mr O'Rourke said that Campus Life Services is mindful of the effect the increased registration fee may have on residents of the five on-campus villages under the management of CLS.
He explained: "[This is] why we set out to keep any increase [in rental fees] as low as possible while still introduce projects that will improve our services."
He added that other Irish universities have "similar challenges," with some increasing the fees for on-campus accommodation by up to 10% for 2015/16.