By Breda Graham
The University of Limerick's student run radio station, ULFM, is proudly part of the 67 UL Wolves Clubs & Societies on offer at the University.
ULFM was founded in September 2011 and has since grown from strength to strength with dedicated committee members, presenters and producers going the extra mile each year.
The ULFM schedule is packed with shows running from 10am to 11pm Monday to Thursday and 10am to 4pm Friday throughout the academic year.
ULFM has a great variety of shows on offer for its listeners which means there is something to suit everyone.  Shows vary from news and current affairs to chat shows and chart music shows.
Shows such as the Clubs and Socs Hour, presented by Eileesh Buckley this semester, included interviews with Clubs and Societies in UL as well as results of matches and information on upcoming events keeping students up to date about campus life.
Production Manager, Danielle Daly, has been involved in the station since her first year in college.  Danielle started out in ULFM as Promotions Manager and went on to become Technical Manager in second year as well as starting her show '2 Beours and a Mic'.  Danielle worked her way up to become Deputy Station Manager this year and will continue to be involved in ULFM taking on the role of Production Manager for the 2015/2016 academic year.
Danielle said "I think the station is a great benefit for students; both listeners and presenters.  A radio station gives the students the opportunity to take an hour or so to zone out of stressful college life to play their favourite songs and talk about what they want.  It is also a great confidence builder and allows students to have a voice."
"ULFM is constantly improving.  Every year poses different challenges but we always pull through.  This year we hosted a very popular game show night which generated money for the station and put the ULFM name out there.  We also covered the ULSU elections extensively over the campaigning week which was a great credit to our Station Manager Andy Murphy and Treasurer William Nolan who put in many long nights at the station to make it happen," said Danielle.
"We had presenters nominated for the Student Media Awards which shows the high standard that the station is at.  We also branched out and worked more with other clubs and societies in UL.  We provided live sound for events and offered shows to any club who wanted one."
Treasurer and Production Manager, William Nolan, said "I've been involved in the station since the very beginning and it gets better and better each year.  The new committee has loads of ideas on how we can make next year even better again so it's exciting times ahead for ULFM."
Station Manager, Andy Murphy, said "For the first time in four years we have been able to give our members the option of purchasing branded clothing which is a huge improvement on other years."
"Teaming up with Student Council and promoting and broadcasting the events they have held over the last few weeks has increased the amount of people that know about ULFM on campus."
"We gave the students exactly what they wanted when we broadcasted the Sabbatical Husts.  I personally feel that this may have helped people to finalise their decision on who to vote for," he said.
Some shows on ULFM brought guests from outside the student population in to the studio to interview them on air.  This is an excellent advantage to the station as these guests are impressed by ULFM's set up and often spread the word of how professionally run the station is.
Guests over the last year included Limerick City Sinn Fein Councillor Seighin O'Ceallaigh and Limerick City AAA Councillor John Loftus who spoke on air about the situation with Irish Water, member of GoTri Adventure Paul Tierney and Events and Marketing Intern at the Hunt Museum Lisa Stuart.
Jean Mounsey who presents the show Anything Goes which broadcasts every Wednesday has also got in a lot of top class guests, most recently Damien Dempsey which, with promotion, also has began improving the station.
Speaking on the improvement of the station, Andy Murphy said "We have looked at how things need to be done from the start in September and number one on our list is to get fresh talented broadcasting blood into the station.  One of the ways we are looking to do this is to be included in the SU's orientation day tours. This will allow freshers to know from day one that UL have a student volunteer radio station and we can get them involved from the beginning."
"We are looking to revamp the station over the summer with some new equipment and needed improvements. We are also looking into getting a temporary broadcasting license that will enable the station to broadcast on FM instead of our normal everyday internet stream," he said.
Danielle Daly said "I think the big picture is to hopefully be on FM frequency as it would increase our listenership significantly.  I would hope that we can start working more on making adverts as we have many people who prefer to work behind the scenes and it would be a perfect opportunity for them to be part of the station."
Danielle also believes that University radio stations around the country have fantastic talent with journalists, presenters and people working behind the scenes putting a lot of work in to improve our student radio stations.
She would hope to see these people with a real passion for radio go on to pursue a career in radio.  She said, "in general Irish student radio stations tend to keep themselves in their own little bubble, if we could arrange more conferences and gatherings for student stations across Ireland then ideas could be shared which would benefit all stations."
The end of the academic year finished off with ULFM's Annual General Meeting which took place recently.  A new committee was elected and the Annual ULFM Radio Awards were presented.
The winners of the 2014/2015 Awards were as follows:  Best Radio Voice Award went to Seán Lynch, Music Choice Award went to "Two Beours and a Mic", Best Duo went to Sally Gorman and Ciara Phelan with "Blast from the Past", Best Newcomer Award went to Breda Graham and the Listeners Choice Award went to Seán Foley and Liam Duffy with "House of Bad".
Winning Listeners Choice Award is a great achievement as it is the show that generates most interest and listenership.  It was a close call in the end between "The Breakfast Club" with Ray Foley and Pip Rocliffe and "House of Bad", but "House of Bad" came out on top with the most votes.
"House of Bad" presenter, Seán Foley, said "ULFM gave me an urge to get involved in more societies as it was the first society I was involved in.  Winning the Listeners Choice Award was the perfect way to end the year and a fantastic way to finish the semester of shows."
Liam Duffy said, "College radio gave me a larger respect for the art of radio broadcasting.  It's a fun way to get involved and express your ideas and thoughts." On winning the Listeners Choice Award he said "It was the perfect end of the year winning Listeners Choice because we did spend a lot of time spreading the word about our show and trying to get as many people involved week in week out."
ULFM hopes to continue growing and to become even more popular over the coming years.  It is no doubt that the new committee members are going to do great things for ULFM over the next academic year.
To listen visit www.ulfm.ie, download the TuneIn App, or search for ULFM on iTunes Radio. To email the studio, email studio@ulfm.ie or to text the studio send your message to 0851545396.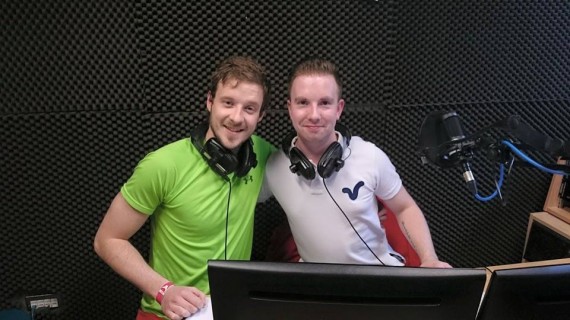 Current Committee Members 2014/2015
Station Manager – Andy Murphy
Deputy Station Manager – Danielle Daly
Secretary – Paddy Butler
Podcast Manager and Treasurer – William Nolan
Technical Manager – Seán McGrath
Production Manager – Finbarr Hanley
PR and Marketing Manager – Breda Graham
Head of News – Seán Lynch
New Music Manager – Declan Mills
Outdoor Broadcast Co-ordinator – Michelle Hogan and Michaela Keating
Events Officer – Angela Weisgal
Web and Social Media – Aine Maunsell
General Member – Alan Peters
New Committee Members 2015/2016
Station Manager – Andy Murphy
Secretary – Alan Peters
Treasurer – William Nolan
Technical Manager – Danielle Daly
Production Manager – William Nolan
Health and Safety Officer – Seán Lynch
PR and Marketing Manager – Michaela Deane
Head of News – Marisa Kennedy
Events Manager – Liam Duffy
Podcast Manager – Finbarr Hanley
Playlist and New Music Manager – Declan Mills
General Member – Rob Cross
2014/2015 Award Winners
Best Radio Voice Award – Seán Lynch
Best Newcomer Award – Breda Graham
Music Choice Award – Two Beours and a Mic
Best Duo Award – Sally Gorman and Ciara Phelan Blast from the Past
Listeners Choice Award – Seán Foley and Liam Duffy House of Bad