We're back for another edition of UL's outfit of the week! This Thursday, we scoured the courtyard for the best outfits and chatted to some seriously stylish students. We'll be out and about again next Thursday, so make sure to don your glad rags!
Outfit of the Week: Male Edition
Ollie is a third-year student in UL, who studies computer games development. With this look, Ollie shows us how to dress up a pair of jeans, and how to pull off a sharp blazer effortlessly. With most of his outfit sourced from the high street, it's a look that every student can achieve! Be sure to follow @olliepeters on Instagram for more!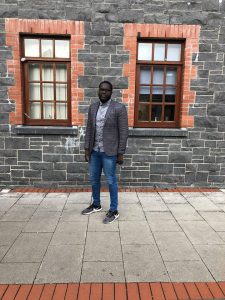 Jacket: River Island
Shirt: River Island
Jeans: Penneys
Shoes: Nike
Outfit of the Week: Female Edition
Mary is a fourth-year European studies student here in UL, who combines retro flair with practical comfort with this look. Featuring more picks from the high street, as well as one-of-a-kind vintage accents, this look is sure to give you some serious style inspiration. Make sure to check out her Instagram too, @mary.kelz!
Jacket: Vintage sale in UL's courtyard
Jumper: Pull & Bear
Jeans: River Island
Boots: New Look
Earrings: Penneys