Marcus Horan joined ULFM's "Beyond The Game" to reflect on a fantastic career with Munster and Ireland, Retirement and life after Rugby
As a Munster fan myself, I have incredibly vivid memories of the Thomond Park before the redevelopment and 25'000+ Limerick landmark we know it as today.
For me, it was all about getting a spot on the wall of the 22 for those magical Celtic League and European Cup nights and catching an up-close glimpse of the stars in our team like O'Gara, Williams, Foley and many more.
But there was so much more, the chants and songs like "The Fields of Athenry" and "Stand Up and Fight" always echoed around the stadium and drove on the team on big nights.
When Ronan O'Gara stood over a place kick you were guaranteed a deadly silence, even for the opposition flyhalf, there was always respect for the away side, win or lose.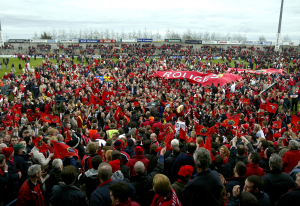 When I look back, that was an extraordinary journey for Munster fans. The early 2000's had good days and bad, from Miracle nights at Thomond Park and away days with huge numbers of travelling support, to a couple of sad days in Heineken Cup Finals.
It was a journey that had it all and was a key contributor to the culture of Munster Rugby as we know it today.
The Munster Journey
One of the key players during that era was Marcus Horan. The former Munster and Ireland prop was just getting into his stride during those early years of his career, but by the time Munster reached the summit in 2006, he was a regular and fan favourite.
So when I got the chance to interview the man himself from Munsters High-Performance Unit at the University of Limerick, it was only right to ask what memories stood out for him during those years from the perspective of a player:
"I think the most important part and memories of Munster in those days were the supporters".
"When we were coming home from those defeats in finals, and you were in the airport, you got an arm around you from the supporters, and they knew what we were going through because they were going through it as well."
"I think that's what made 2006 all the more special because we'd been on that journey together and we'd seen where Munster came from to where it was"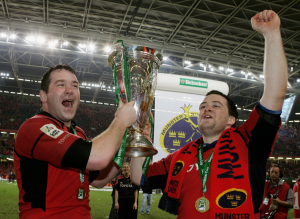 After many years of try again, fail again, fail better on the European stage, Munster got over the line and became Heineken Cup Champions in 2006 by beating a tough Biarittz team in Cardiff. On a day where Peter Stringer was remembered for his cheeky try over Biarittz back Bobo and floods of fans in red watching from Limerick, partying on O'Connell Street at the final whistle after witnessing history being made at the Millennium Stadium.
After reaching the mountaintop, on a day that will forever hold a place in every Munster fan's heart, the goalposts would change. Munster were eager to build and do it again by returning to Cardiff in 2008, this time with some new faces in the team like Doug Howett, Rua Tipoki and Lifemi Mafi, the outside injection of talent that the province needed at that time going up against another French superteam.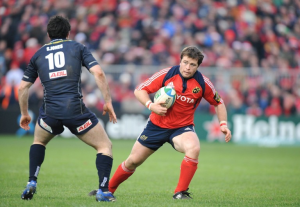 "In 2008 we got to relish it a lot more, it's funny we were in the same stadium again, and we really got to lap it up a lot more. It was against Toulouse too, the powerhouse of Europe at the time which made it that bit more special".
Those couple of Heineken Cup medals only added to Horan's haul, having picked up a Celtic League medal in 2003, the Shannon RFC club man was part of a legendary front row alongside John "The Bull" Hayes and Jerry Flannery.
Horan made his Ireland debut in 1999 against the USA and the years that followed saw him play in two World Cups (2003 & 2007) and add a couple of Triple Crowns heading into the 2009 season.
Days in Green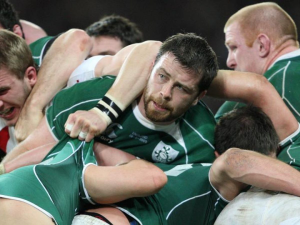 The 2009 Six Nations Tournament saw Horan start every game and play a vital role in what would end in Ireland's first Grand Slam title in 61 years, writing themselves into the history books.
"Even the phrase "Grand Slam", I think there's such a finality about it and it's really the ultimate thing in Rugby this side of the pond."
"One of the more special moments of my career I think, especially after such a long wait to get to that level and in some ways kind of like our victory in 06' with Munster it kinda opened the floodgates a bit, we started believing that we can dine at the top table and win these Championships and Grand Slams"
Retirement
"Don't take the sport you play for granted.  Every time you play, you better be damn thankful that you get to do something you love. When you finally reach the day that you can't play, and you can only watch, then you will know how much you love something that you once took for granted."
NFL star Robert Mathis on Retirement
"I knew the writing was on the wall, in the preseason I was on the bench for both the warm-up games and got very little time."
"You just felt like this was it and it some ways I wasn't prepared for it; you know you still think you're bulletproof and can still contribute and make a difference in the squad."
"There's the scary realisation that this time next year I'm going to be out of that bubble, fending for myself and going into a world that I have never experienced before"
Horan called it a day at the end of 2013 season, bringing the curtain down on a 14-year career which saw him become one of Munster's most capped forwards with 224 appearances and earn 67 caps for his country. But there was so much to think about as he set sail into life after Professional Rugby.
"I hadn't worked a 9 to 5  or had a regular job before Rugby, so that was scary, but from a Rugby Players Ireland point of view I got some great support and guidance from them." "Overall I felt that I should have prepared more for retirement, and that is something that I have learned through working with Rugby Players Ireland since retiring."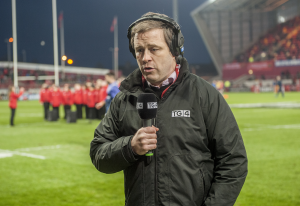 Since hanging up his boots, Horan has gone back to college to complete his studies at LIT as well as lecture there. Other areas he's worked in included coaching his club side Shannon RFC for a period of time as well as getting into TV punditry work with TG4.
Rugby Players Ireland
Currently, though, he's returned to the organisation that's given him support as a player, only for him to now pass on his knowledge to the next generation of Rugby players as the Player Development Officer in the Munster region. A role he's been doing now for the last two years:
"Our focus has been that in the last number of years, this area hasn't really been taken care of, it was probably done at an ad-hoc basis."
"I think Declan Kidney was great when he was here in asking players what they were doing outside of the game and making sure we were preparing for life outside of the game."
"At Rugby Players Ireland we've five different areas that we work on and one of those is education and that's one I deal with a lot, other areas include careers and getting lads to work experience in preparation for that 9 to 5 or even things like preparing CV's and their LinkedIn profiles it's an ongoing thing"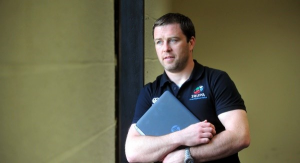 A positive talking point for Rugby Players Ireland was a Mental Health campaign introduced by the organisation in recent times. The "Tackle Your Feelings" campaign encourages men to talk more openly about their feelings when sad or frustrated.
"Mental Health is very important, and we have a very strong programme in that area too, and I think it complements what the other provinces are trying to do with players and the pressures they may feel."
"One of the big things I am strong on is trying to keep guys in the region because I think they could add a huge amount not just to Rugby but their communities and Business locally and these different areas. If we can keep these guys here, it would not just benefit Munster Rugby, but their communities would be better off also".
Tune into "Beyond The Game" on ULFM every Friday from 1-2pm, for the latest Sports news, views and updates.