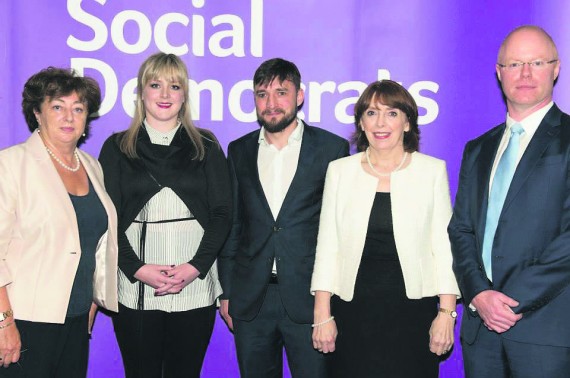 By Tomás Heneghan
There are plans underway for the establishment of a University of Limerick Social Democrats society. This follows recent moves in Trinity College Dublin, National University of Ireland Galway and National University of Ireland Maynooth to establish a similar group.
The group has already attracted interest from a number of students and staff at UL, leading to discussions amongst interested parties on potentially seeking official recognition to form a society under the UL Wolves banner.
One of the key organisers on campus, Declan Mills explained: "I no longer knew who to vote for, as no party in Ireland represented my beliefs. Then the Social Democrats formed and they're giving a platform for people with left-of-centre political beliefs."
Mr Mills added: "We're in the process of seeing if anyone in UL is interested in joining a local branch of the Social Democrats."
Former UL student and the Social Democrat candidate for the Limerick City constituency in the upcoming general election, Sarah Jane Hennelly is involved in the move to create a UL branch of the Social Democrats.
Ms Hennelly, who was one of the first candidates unveiled by the fledgling Social Democrats party last month, held a workshop last week for those interested in volunteering or canvassing for the party in Limerick.
Ms Hennelly told An Focal: "I studied and worked in UL for many years. This place has given me a lot, and shaped the person I am. Establishing a presence here for the Social Democrats is incredibly important not only to me, but to the development of the Social Democrats as a party.
"We need students to give us an insight into their lives, and help shape our picture of our country. The interest across the universities has been huge so far. Because we're a new party, students who get involved will have the chance to shape how things are done, and create their own space."
She added: "I would have loved that opportunity when I was studying. It's an incredibly exciting time for young people in Irish politics."
The Social Democrats was launched in July this year by three former independent TDs, Stephen Donnelly, Catherine Murphy and Róisín Shortall.
The three current TDs will seek to be reelected and the party will be lead by them until after the next general election when a permanent decision will be made on the party's leadership style.
Last month the party unveiled its first seven candidates for next year's general election, including: Niall Ó Tuathail in Galway; Sarah Jane Hennelly and James Heffernan in Limerick; and Anne-Marie McNally, Gary Gannon, Glenna Lynch and Cian O'Callaghan in Dublin.
Students are being encouraged to contact Declan Mills at the University of Limerick if they are interested in getting involved with the Social Democrats on campus.