UL Craft Society held a special event during charity week.
The event called Bob and Bubbles was held in the student courtyard on Wednesday.
Society Co-President Niamh Tubridy said the event represented the ethos of UL Craft Society.
"We're Craft Soc, this is our jam," she said.
The Bob and Bubbles event Bob and consisted of students in the courtyard painting, with bubbles adding a fun element to the atmosphere.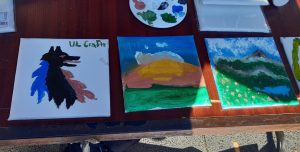 According to UL Craft Society Public Relations Officer Lara Clifford, the event was a great alternative to the fast-paced events of charity week. 
"College can be stressful and we thought giving people the chance to chill out and do some painting would be a therapeutic moment of calm for students in the midst of the chaos of charity week- and who better to inspire calm than Bob Ross himself," she said.
The charities chosen for this year's charity week were Pieta House and Limerick Marine Search and Rescue Service.
The event, which was the second Bob and Bubbles event of the semester, with the first being held on Tuesday of week 5 in Scholars.
The previous events had been to raise fund for the society
According to Niamh Tubridy, the weather kept all but a few at home.
"We had some dedicated artists who braved the umbrella destroying winds and golf ball-sized hail to help us raise funds," she said.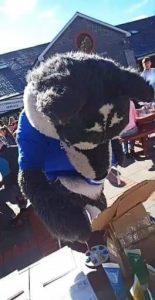 According to Lara Clifford, the idea for the events came from a member of the society at a weekly hangout.
"One of our members suggested a Bob Ross painting sesh. Needless to say, everyone was on board because we all love a bit of Bob," she said.
Bob Ross was the host of The Joy of Painting which ran from 1983 to 1994, spanning an impressive 31 seasons.
As well as inspiring generations to paint, the much- loved painter who died in 1995, was famous for saying:
"We don't make mistakes, just happy little accidents."
The charity week Bob and Bubbles event was a success outside of the society.
According to Niamh Tubridy, the event was fun for those in the courtyard throughout the day and the art created was of a very high quality.
"We had a bit of interest from passers-by on Wednesday of charity week, where we had some absolute masterpieces created at our stall. I think many people including the sexual wellbeing stand very much enjoyed the fun atmosphere that the bubbles and painting created on the beautifully sunny day that we were happy to have," she said.
UL Craft society run "hangouts" from 7 pm on Wednesdays in the Student Life common Room 
Activities include pottery, screen painting, crochet and more.
Craft Soc is always looking for new members to join us- whether you're a stressed student looking to make some therapeutic art or want to express your creative side beyond the confines of your course," said Lara.