You've all heard Killing In The Name at some stage in your life.
Be it at prinks, on Grand Theft Auto, Costie's, or that Christmas number one campaign in 2009,
you've heard it.
It was the calling card of the last truly socially relevant band, Rage Against The Machine.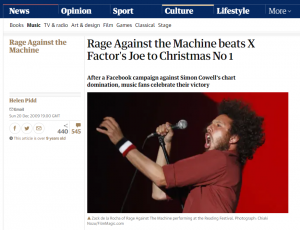 That intro riff hits with the force of a bulldozer, that slow bass build-up feeds into the most
cathartic and iconic riffs in rock history, and then Zack De Le Rocha starts his thesis about police
brutality.
A band consisting of 4 middle-class kids from Los Angeles with varying degrees of European or
African ancestry, Rage was the shot in the arm the music industry needed in the 1990s.
Cut to 2019, no band out there are even trying to do what Rage did – and that's a crying shame.
Granted, this is the same band that spent an entire decade railing against right-wing politics and
burned out by the time George Bush Junior took the White House, but their legacy still hangs
around the culture like the fallout following a nuclear blast.
Rage's final studio album of original songs came out in 1999, the vastly under-rated Battle Of
Los Angeles, and it's the band at their potent and angry best.
They're raging against the moderate Bill Clinton/Tony Blair left; they're raging against
corporations in the face of the dotcom boom; they're raging against the boomers who gave
Forrest Gump Best Picture; they're raging against globalisation; they're simply put, Raging
Against The Machine.
The Battle Of Los Angeles' greatest cultural legacy is the Michael Moore-directed music video
for Sleep Now In The Fire, which features a "Donald Trump For President 2000" placard as they
play on the steps of Wall Street.
What follows is a joyous cacophony of mayhem at the scene of everything the band believes is
wrong with the modern world.
For their efforts, they got the New York Stock Exchange shut down and lead to an outcry in the
media.
No band in 2019 would ever have the nerve to try to pull that stunt today.
Be it boring insurance people advising against it, the outrage culture that was brilliantly
lampooned on a recent Saturday Night Live sketch with Idris Elba or mere content with the
establishment, no one will try.
When Kanye West puts out an album of sub-standard SoundCloud rap and hangs out with Elon
Musk and Trump, he's considered a trailblazer and an artist.
Rage set the bar so high for other acts in terms of achieving cultural notoriety; it seems that most
artists these days are merely content with playing the streaming game and putting out songs
under 3 minutes.
Sure, we get the occasional out-of-left-field pop hit (Portugal. The Man existed since 2006
before getting that one big hit), but that seems like the exception rather than the rule.
Bands like Rage, and yes, even their awful imitators Limp Bizkit and Korn, were the weird
scuzzy guys in the smoking area of the pop charts 15-20 years ago, but now they are nowhere to
be found.
Listening to the top 40 on BBC Radio One on a Sunday evening would always give you some
fun and weird songs hanging out, but now it's just album cuts from the pop princess of the
moment or some weird singer people found on Reddit.
Are we really that content with letting people like Ed Sheeran and Drake become voices of a
generation when there's so much to be angry about?
Granted we've had Audioslave, One Day As A Lion, the brief 2007 reunion and Prophets Of
Rage, but none of them captured the same lightning in a bottle energy Rage brought to the music
industry all these years ago.
Get Zack, Brad, Tom and Tim back in a room like that one Simpsons episode where the teachers
go on strike, let them go at and air their grievances, and give us more of their firebrand music at
a time we need it the best.
To quote one of their best tracks "We've got to take the power back" before the likes of Lewis
Capaldi and Picture This ruin music for everyone.
To quote my favourite-ever Onion headline "Where Are You Now When We Need You The
Most, Rage Against The Machine?"
That headline was funny in 2004, but in 2019, it seems like a war cry.
You can catch Mike's radio show Tunes From The Movies every Wednesday night at 9pm
on ULFM.