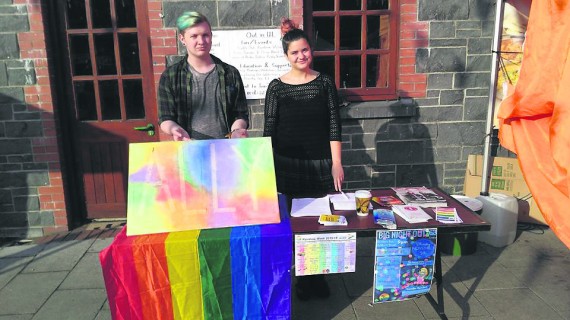 By Gearóid McCarthy
During the ninth week of the semester (starting Monday 2nd November), the University of Limerick's Rainbow Week took place. Described on the Out in UL website as constituting "education, fun and educational fun", Rainbow Week is an annual celebration of the LGBTQ community and its diversity and is one of Out in UL's biggest yearly events.
Rainbow Week kicked off on Monday with a bake sale in the SU Courtyard, followed later on by the Cocktail Night in the Scholars Club. On Tuesday the society sought to celebrate those outside the community who fight for us, with an Ally Awareness Stand in the courtyard. That evening saw a deeply educational workshop from the Irish Trans* Student Alliance called "Trans 101". This aimed to educate the members on issues relating to transgender people, too often disregarded not just by the general public but by others on the queer spectrum.
Keeping up the spirit of educational fun, Limerick-based organisation GOSHH visited the SU courtyard on Wednesday afternoon for Sex in the Courtyard, to promote discussion and information surrounding sex education, protection and orientation. That night, Out in UL had its Big Night In for members, which was an informal gathering and movie night held in Dromroe Village Hall to bring members of the society together during Rainbow Week. GOSHH returned the next day to facilitate the Erasure Workshop. This was a crucial educational event, held to raise awareness of the erasure experienced by certain orientations on the LGBTQ spectrum – such as bisexuality, pansexuality and asexuality – that aren't as prominently portrayed in the media or public discourse.
Thursday night was the peak of the "fun" element of Rainbow Week as we headed to Strokers on Upper William Street for the Big Night Out. Some members partook in the evening's "gender-bender" theme and the musical and drag performances were enjoyed by all. Our recovery after the Big Night Out was aided the following afternoon by the Tea Appreciation Society in SU Room 3 (shout-out to Tea Society for the really tasty green mint tea). Rainbow Week concluded with a Eurovision-themed TGIF event in Stables, held in conjunction with the International Society.
Without a doubt one of the more remarkable events seen on campus since the beginning of the semester, Rainbow Week without a doubt emphasised the vibrancy and diversity of our queer community.