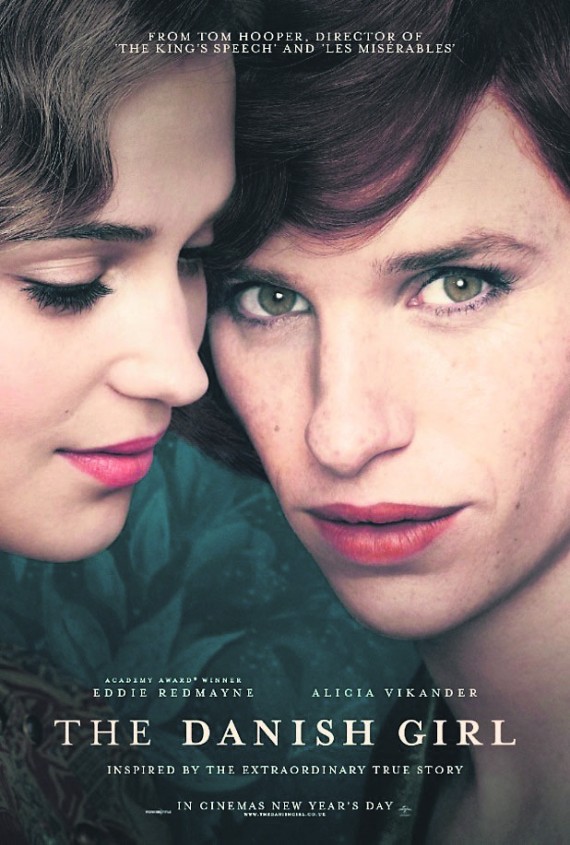 By Eilís Walsh
I remember coming across the trailer for The Danish Girl while browsing on YouTube. It immediately caught my eye because of Eddie Redmayne, a prominent English actor who plays the main character. This is a screenplay that took ten years to develop. Where to begin? I was hooked after watching the trailer and that is usually a good sign with films. It is directed by Tom Hooper, the man behind The King's Speech (2010) and Les Misérables (2012).
The film focuses on artist Lili Elbe and his wife Gerda Wegener. Its main focus is the true story of how Elbe came to be one of the first known men to transition into a woman and undergo sex reassignment surgery.
Honestly I was entranced within the first few minutes of the film. Even if you don't analyse films like I do, you will be in awe at the Danish landscape. Wild, rugged and alien almost yet breath-taking. Then we are taken to 1920's Copenhagen, a world of art, social events and the life of a man hiding his true identity for the better part of his life. Gerda awakens Einar's suppressed feminine nature when she asks her husband to pose for a portrait. Feeling the touch of silk and wearing women's clothes Einar feels something change, a change that is soon seen to be irreversible. Einar's wife begins to paint Einar as Lili and soon her paintings are exhibited to a very enthusiastic Danish audience. While at an art exhibition as Lili, Ben Whishaw's character Henrik falls for her and the pair kiss, in full view of Gerda. Einar is terrified of the irrepressible feeling that he is living in the wrong body.
An art dealer picks up Gerda's portraits of Lili and announces that they are to be exhibited in Paris. The pair move to the city and Lili lives her life openly as a woman. This provokes very frightened feelings in Gerda who feels as though she is losing her husband. The pair's relationship gradually shifts from a romantic one to a sisterly one. She discovers that Einar has kissed a man before, once when he was very young. This is Hans (Matthias Schoenaerts), a childhood friend. She makes contact with him and when he comes to meet her she finds herself attracted to Hans. However the pair don't embark on a romantic relationship. Instead they become pillars of support for Lili as she undergoes traumatic mental and physical changes.
The film highlights the very real danger transgender people face even today as there is a large group of people opposed to those living openly as transgender. In the film Lili begins to wear more feminine clothes in public yet is set upon by two men who are ignorant and don't understand.
The Danish Girl also emphasizes the serious risk in sex reassignment surgery, as when Lili rushes her surgeries to remove the "foreign" parts of her, she weakens and dies. I found it very moving when Hans asks Lili how she is and she replies "Entirely myself". She passes away peacefully after her second operation, being too weak after a bout of fever. Gerda and Hans travel to Lili's childhood home and stand out looking across the water. Gerda's scarf, one worn by Lili blows away. Instead of chasing it she lets it go and in a sense lets Lili go. I found the imagery beautiful at this moment, in a way Lili is now free.
We are shown various reactions to the revelation of Einar's being transgender, human reactions. Some doctors deeming the man schizophrenic, mentally unstable and incurable. At this time being transgender was something alien to the Danish community, and in Denmark Einar is unable to live an ordinary life as a transgender woman.
The best known actors in this film are the leads, Eddie Redmayne as Lili and beautiful Swedish actress Alicia Vikander taking the role of Gerda. These two had amazing chemistry and I want to credit Vikander for holding her own and bringing Gerda to the screen in such a striking way. While there has been some criticism of a cisgender man playing a transgender character, I think Eddie Redmayne did the character justice, he can play a woman so well it's unnerving. It would not be surprising to me if he has received an Oscar nomination for this role by the time this review is out.
I really learned a lot about the transgender world. This is a world I am aware of, yet know next to nothing about and perhaps it's time I took the time to read into it more. Something I noticed in the cinema was that there were more of the older demographic than expected. This I take as a sign that people are becoming more accepting to those who identify as transgender. This film was beautifully shot, looking really classy and authentic. I would recommend it to everyone, whether accepting of transgender people or not. It's an eye opener either way.