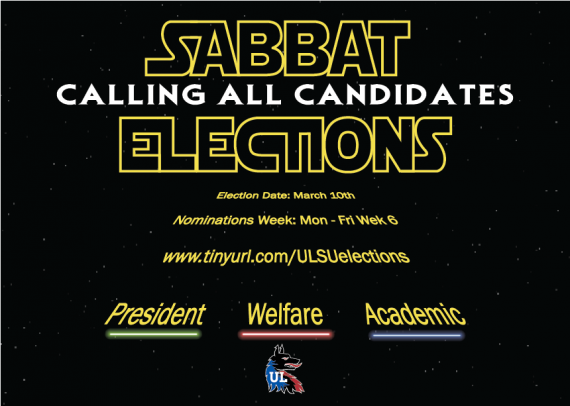 By Liz Gabbett
Some of you reading the title above might be asking, what is a Sabbatical Officer and what do they do? Simply put, a sabbatical officer is a full-time paid student officer elected by the students of UL to represent the students' interests at university committees and beyond.
Maybe you are thinking you would like to be El Presidente or maybe you would like to be the Welfare Officer, Academic Officer or maybe an Executive member for the next academic year? It is a great opportunity and privilege to represent all students, there is a lot of work involved and a lot of responsibility but those who have served as sabbatical officers all say it was a fantastic experience and they learned so much. All current registered UL students are entitled to run for election. Here is what you need to know:
Week 7, March 10th sees the election for the full-time Sabbatical officers and Executive Officers representatives. You will choose your representatives for 2016-2017, those students who will represent you on the University decision making committees, who will speak on your behalf to government ministers, HEA officials, journalists, county council officials and gardai. Who will lead the campaigns that affect UL students? You, the students, will decide who your officers will be when you vote online on Thursday, 10th of March.
Nominations for all positions open Monday 9am, Week 6. You can collect a nomination form from the SU Reception and you must get 20 proposers and 40 seconders to sign your form. Completed forms, complete with a €50 refundable deposit, must be returned to the SU Reception by 5pm, Friday 4th March Week 6.
Campaigning starts after the candidates have been confirmed later on Friday around 7pm.
Uncontested Sabbatical officer candidates run against RON (ReOpen Nominations) to give you a choice on whether you want that candidate to represent you for that particular position.
I strongly encourage any person thinking of running to please come talk to me to find out more information. Email me to arrange a meeting: liz.gabbett@ul.ie
You can find more information, such as job descriptions, campaigning and election rules etc. at http://tinyurl.com/ulsuelections
All the best
Liz Gabbett
ULSU, Democracy Development Manager